Whether you are a student or employee, you have already noticed.
Every day of the week, from Monday to Friday and for some until Saturday, we undergo fatigue and stress, we have a thousand commitments and many things to do in a short time. There is never enough time to dedicate ourselves completely to ourselves.
We do not have time to rest properly or even a little time to take care of ourselves, with the result that we are always under stress and in a bad mood.
While it is true that you should take some time every day for yourself, it is also true that due to the many commitments, it is difficult to do it every day.
So how do you go about it?
The solution is to take advantage of the only free day of the week and dedicate all your time to what makes you feel good.
This is why today I want to talk about 29 self-care Sunday ideas for the perfect recharge for the week ahead to introduce into your routine and enjoy your me-time.
Don't forget to check these three posts as well:
Pin it for later!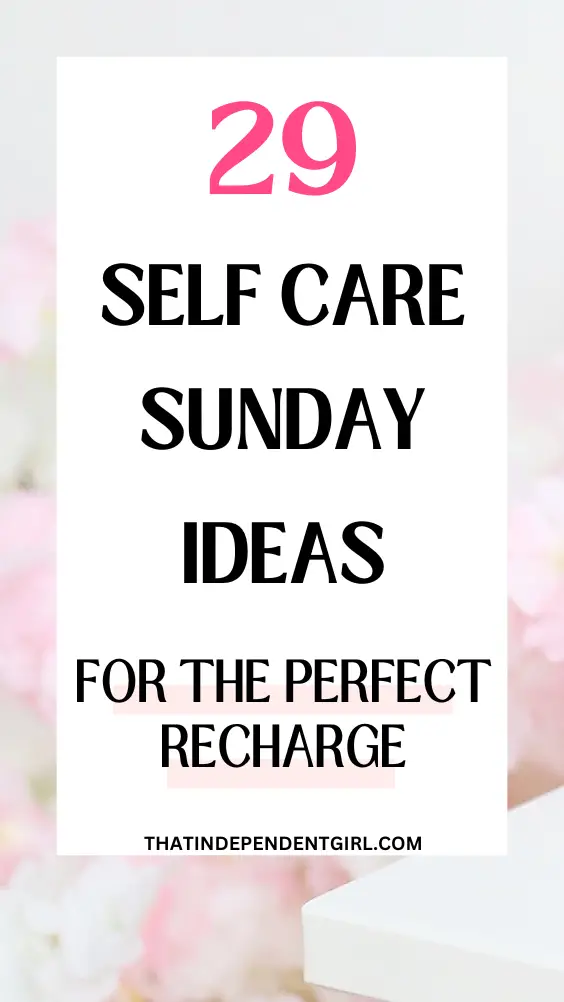 Self-care Sunday ideas for the perfect recharge
Self-care is very important for your physical and mental well-being, and it shouldn't be overlooked.
Since Sunday is a day off, you could focus on this day and dedicate it to self-care.
It's a perfect way to get rid of the accumulated stress of the week and recharge your energy for a new week.
Below I will list 29 self-care Sunday ideas for the perfect recharge that you can include in your routine and depending on your preferences, you can add or remove something from this list.
1) Sleep in
It's Sunday so why not take the opportunity to sleep a little more?
It is said that it is important to wake up at the same time every day, but it is also true that despite everything, one day a week you can allow yourself to sleep an extra hour or two, which is needed to recharge the body after a week of work.
I'm used to waking up at 5 a.m. every day for work, but on Sundays, I sleep until 7 or 8 before I decide to get up, and it never hurt me.
2) Wake up slowly
Due to the rush, we are used to getting out of bed quickly and getting ready for the day.
But on Sunday, I want you to wake up slowly.
When you open your eyes, stay in bed for a couple of minutes. You can glance at the window to understand the weather outside, you can stay immersed in your thoughts or think about the dream you had last night.
Whatever it is, don't rush and get up slowly. If you start the day well, the rest will be just as well.
3) Take a moment to reflect
Take a moment to reflect on the night you spent and the day you are going to face.
Organize your thoughts before you catapult yourself into everyday life.
Many do not give importance to this thing, but I think that being alone and reflecting on yourself and on the moment helps you a lot mentally.
I do it too, and by doing so I tend not to think much during the day and have more time to focus on myself.
You too, before starting to do anything, stop for a moment to reflect on your emotions, your thoughts, your goals, and life in general.
4) Have a hearty and delicious breakfast
On Sundays, you must absolutely treat yourself to a rich and delicious breakfast, which gives you the right amount of energy to face the day properly.
If you eat cookies every day, eat a slice of cake on Sundays, or treat yourself to something tasty that you don't eat every day.
Take the time to prepare yourself a hearty breakfast and enjoy it with happiness.
5) Enjoy your breakfast in bed
It's Sunday, so instead of having breakfast in the kitchen, why don't you enjoy it in bed?
Staying under the covers for a while, especially if it's winter, and having breakfast is one of my favorite self-care Sunday ideas, and I do almost every Sunday.
Prepare your breakfast, open the shutters to let in the sunlight, and get under the covers.
Now you have plenty of time to enjoy your breakfast without rushing.
6) Practice gratitude
Of course, gratitude is not only practiced on Sundays, but for those who are so busy, it can happen that they forget to think about all the blessings they have.
Every morning, practice gratitude, even if it's only for five minutes.
Think about all the things you have and count the blessings that have been given to you. Not everyone lives well in the world, but you have this gift.
So always be happy with what you have and don't compare your life to that of others.
7) Do some stretching
Practicing physical activity is good for the body and mind. This is why as part of the self-care Sunday ideas I have decided to include this point.
Stretch yourself for a couple of minutes a day. There are tons of videos on youtube, both for beginners and advanced.
I am very happy with this video. I'm not a very elastic girl and I can't even touch my finger toes, and this video is one of the easiest for me to practice.
It's only 13 minutes, you can also do it every day, stretching relieves muscle tension and relaxes your body.
8) Have a rejuvenating bath
A hot bath must not be missing. On Sundays, since you have more time, spend it in a warm and relaxing bath.
You can also opt for a hot shower if you don't have a bathtub.
Use a body scrub and afterward a scented shower gel suitable for your skin type.
You can also play your favorite song or relaxing background music.
9) Change your bedsheet
I cannot stress the importance of changing the bed sheets at least once a week, if not more.
By changing the sheets you will always stay clean and sleep in scented blankets.
But changing the sheets is not just about hygiene.
I suffer from acne, and my doctor's advice was to at least change my pillow sheet as often as possible.
The skin in contact with sweat and impurities retained in the pillow eliminates all the care we have given through our skincare
10) Pray or practice some meditation
If you are a believer, take some time to pray.
Go to church or pray at home. Take some time to ask and thank God.
If, on the other hand, you are not a believer, you could meditate. Meditation is good for the mind and gives you a sense of calm, improves concentration, and increases self-awareness
11) Do a digital detox
If every day of the week you are always on your mobile for various commitments, to reply to emails, or to follow your idols on Instagram, take a break from social media and mobile on Sunday.
A digital detox is great for mental health.
I've tried it myself, and I have to say it works great! You are not constantly hooked on your cell phone, and you live your day to the fullest.
You also have more time to take care of yourself and spend the moment with your loved ones.
So on Sundays, try leaving your phone on the bedside table, and do things that make you feel good, like a self-care routine, a card game with the family, or reading a book.
12) Write in a journal
Get into the habit of writing in a diary, it will be your best friend to reflect on your emotions, thoughts, and everything in your mind and track your progress and goals.
If you're not used to it, you could start right on Sunday, and update it once a week.
Take a sheet of paper and throw down all your thoughts, write down how your day went, what you are happy about, and what made you sad.
If, on the other hand, you would like something more specific or are unable to write freely, you can opt for journal prompts.
13) Go out for a mindful walk
When I say that walking is also good for the mind, I mean it for real. Go for a mindful walk.
It is a cure-all for mind and body, and being away from home and in contact with nature is always a good thing.
As you walk, observe the landscape, smell its smells and listen to the sound of the wind and the leaves of the trees moving. At the same time, breathe and focus on your breath and body and become aware of your surrounding.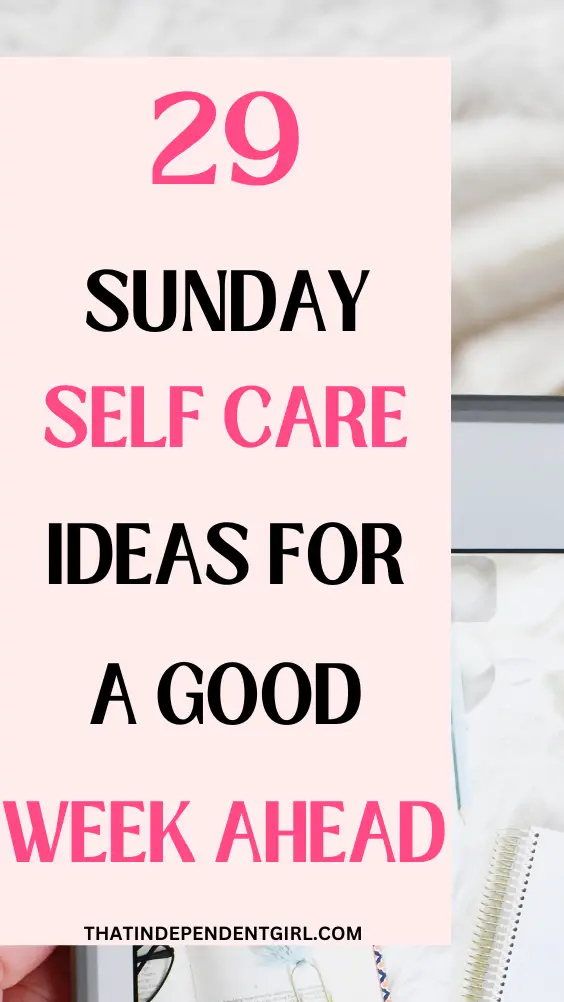 14) Prepare your favorite drink
To spend a nice Sunday, you certainly can't miss your favorite drink!
Prepare the drink you like best, be it chocolate, coffee, a cup of hot milk, a glass of fruit juice, or simple tea.
You could accompany this activity with something else. I'm usually used to drinking my coffee and either I write on my blog or I watch an episode of a Korean drama.
Relax as you drink and sip slowly, enjoying your favorite drink.
15) Read a chapter of a book
Read, read and read.
I'll never get tired of saying it. Reading can not only be a relaxing activity, but by choosing the right books, it is thanks to them that you make yourself a culture.
Reading opens up many worlds, you can learn about new things, learn about the culture of a population, educate yourself on the current situation, understand the problems of the world, and get to know new authors and new genres.
Always read, and if you don't have much time during the week, there is no excuse for Sunday.
Even just one chapter a day is enough but get in the habit of reading.
16) Take an afternoon nap
If you wake up very early every day and go to bed late, Sunday is the perfect day to catch up and take advantage of an afternoon nap.
However, it is important to get little sleep.
A one or two-hour nap is perfect for recovering the lost energy of the past week and at the same time not robbing you of the sleep of the night.
If you sleep for many hours in the afternoon, you run the risk of not falling asleep at night and starting the new day tired.
17) Go on a road trip
If it's a nice day, go for a walk around the city or choose a very nice destination.
In autumn you could choose a destination in the mountains or in the plains, and drive to listen to music, stopping to eat your favorite dish and take lots of photos along the way.
Depending on the season, choose the right destination for yourself.
18) Indulge yourself in your favorite hobby
Among the things we can do to lead a happier life is certainly cultivating our passions.
Don't forget to schedule some time to do your favorite hobbies.
I love dancing, and every day, I dedicate some of my time to it.
On Sundays, since I am freer, I dedicate more time to it and my body and mind come out happy.
If you also have an interest, take some time out of your day and cultivate your passion.
Hobbies are a real nourishment for our soul and allow us to be ourselves at our best and allow us to take a mental break from the busy life we ​​have.
19) Practice positive affirmations
Positive affirmations are a genuine help, especially in times when we don't feel super motivated or when we're going through a bad time.
But not only. Practicing positive affirmations can make you change your perspective and your way of thinking and are a great antidote to low self-esteem, allowing you to work better and achieve your goals.
If you want to make self-affirmation even more effective, accompany it with the so-called visualization.
Rather than just repeating the positive affirmation in your head, write it down and say it aloud.
20) Listen to music and dance
This is definitely the best part for me.
Do you have a favorite genre? Or a singer you love? Then put on a good song and dance to the beat of the music.
You don't have to know how to dance, even swinging or dancing with a broom is perfect.
The goal here is to feel free, feel good about yourself and have a fun time.
21) Watch your favorite series and chill
One of the famous self-care Sunday ideas for the perfect recharge that could not be missing, is of course Netflix.
Put on a comfortable dress, grab a snack to put under your teeth, and a hot drink.
Now you are ready for your movie night at home.
I don't know about you, but I love Korean dramas. I just finished watching the "Start-Up" series and I highly recommend it, as it is all about dreams and starting a business and the hard work to make it come true.
Choose a series of your liking and just chill. Every now and then you deserve it!
22) Cook a delicious dinner
If you are a food lover like me or you love to cook, why not cook a delicious dinner?
There is no better way to end a day in style.
I honestly don't like to cook but I love to eat, and I always get excited when I know that a delicious dish is waiting for me.
It may not seem that way, but cooking delicious food is part of self-care and helps you feel good.
You can opt for quick recipes or more elaborate ones. Either way, treat yourself to a delicious dinner on a Sunday night and end the week with a class.
23) Meet up with family and friends
For those who live alone or have a large family, this is definitely one of the self-care Sunday ideas that will bring joy.
Getting together with family or friends after a stressful week is very comfortable.
You can tell each other things, exchange news and can spend a good time together.
Surely it is a good way to take your mind off the weekly stress and face another one with more energy.
24) Do some Sunday baking
Whether for breakfast or for an afternoon snack, baking a cake is ideal for enjoying dessert on a quiet Sunday day.
If you wake up early you may already have a delicious breakfast, but if you prefer to leave the dessert for the afternoon, then bake in the afternoon.
Accompanied by a cup of coffee or tea, the dessert will be even better.
25) Declutter and clean
If you haven't already, get into the habit of decluttering and cleansing on Sundays.
By this I mean not just mopping and dusting, but also throwing out things you don't need, fluttering papers, cleaning your email inbox, folding clothes left on the chair, and so on.
Cleaning on Sunday gives you the advantage of being able to start the week with more organization and productivity, and in a clean environment.
And that also means more concentration on the things that are really important.
26) Practice skincare
Before going to sleep, I do very simple skincare, but it helps me to hydrate the skin and end the day fresh and clean.
Practicing regular skincare brings many benefits to the skin.
Just choose products suitable for your skin and clean your face morning and evening.
27) Do something that makes you laugh
This doesn't just apply to Sundays, but since we're here, I don't shy away from mentioning it.
If you want to live well, then you have to laugh.
I believe that laughing and doing things that put a smile on your face is a part that must never be missing in someone's life.
Watch funny videos, play something funny, and spend time with people who make you laugh and make you feel good.
28) Prepare for the week ahead
Sunday is not just about fun activities, but also about organization and productivity.
If you want to start the week on the right foot, then you have to concentrate a part of your time on writing your to-do list, the goals you would like to achieve, the tasks to complete, and the appointments you have during the week, as well as organizing yourself with bills.
Better to do this on a Sunday night before going to bed.
29) Go to bed early
Last but not least, go to bed at a good time.
How many times have you ever wanted to stay up late just because it's Sunday? I have done this a lot of times myself with the result of being half-dead the following day.
I know it's Sunday and you'd like to stay up at night, but depriving yourself of sleep to see an extra episode or chat is absolutely not good.
If you want to start Monday on the right foot, it's best to go to bed early and be well-rested the next day.
Conclusion
So, this is it.
I hope this post of 29 self-care Sunday ideas for the perfect recharge has given you some inspiration and that you can spend your Sunday dedicating yourself to yourself.
If you have any other ideas, don't forget to write them to me in the comments. I will be happy to read them.
With love,