Why is morning time so important? Why is it essential to spend it correctly? Is it true that there are morning habits that will change your life?
For some time now I have been interested in the days of successful people and how they spent their time.
I wanted to know how they were always on top and super productive at the same time.
Reading these people's routines, I realized that they all have one thing in common.
They developed morning habits that changed their lives and allowed them to be the people they are today.
But let me guess. Have you finally realized that you are tired and would like to change your life so much but you don't know how to do it or where to start?
Would you like to be happier, more productive, and spend your days in a better way but you probably can't find a solution?
If you are looking for these answers, then you have come to the right place.
Today, I'm going to talk about 16 morning habits that will change your life you can start implementing right away and give you that help to change your life for the better.
Pin it for later!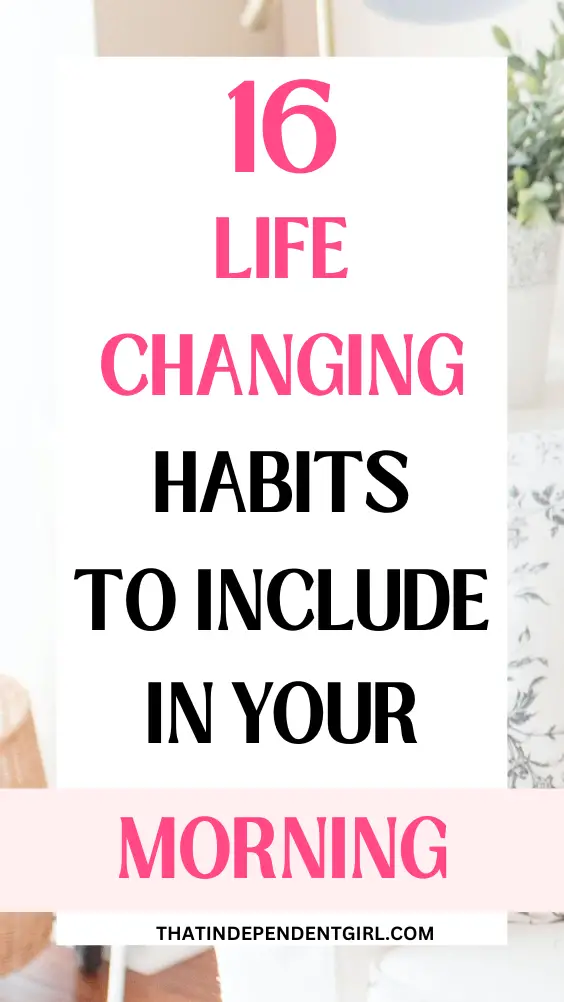 Morning habits that will change your life
The morning is the time that has the power to decide how you will spend the rest of your day.
Therefore it is important to know how to best spend it in order to leave us with a positive mood and face the day with more happiness and productivity.
1) Set a wake-up time
One of the habits that in my opinion is fundamental, is to set a wake-up time.
This is because it is not only important to get up early, but getting up at a time you set helps your body get used to it.
It also brings numerous benefits, such as being productive during the day, guaranteeing the body the necessary hours of sleep, and avoiding postponing the alarm clock, which does more harm than good.
If you're used to waking up at eight o'clock and would like to wake up at five, don't set the alarm for five.
Instead, start gradually and wake up every two to three days half an hour earlier than the previous day.
In this way you slowly get your body used to waking up early without upsetting it and running the risk of giving up.
2) Get out of bed when the alarm goes off
Another habit to implement is to get out of bed as soon as the alarm goes off.
From experience, I tell you that if you don't get up right away, you risk wasting precious time doing nothing, and maybe you end up falling asleep again. I say this because I was used to doing it too.
To help you, you could place the alarm clock on a nightstand away from the bed so that you have to get out of bed.
After this, you will be more motivated to go about your business instead of going back to sleep.
3) Meditate / Pray
Early in the morning is one of my favorite times when I set aside a few minutes to pray.
It has become quite a habit now, to pray in the morning.
If you believe in God, I really think that asking him for some prayers early in the morning will help you give that extra boost to face a better day.
If, on the other hand, you are not a believer, this does not have to be a problem. You could meditate, or spend the time analyzing your thoughts and emotions.
4) Breathe in fresh air
What's better than breathing good fresh air early in the morning?
The fresh air in the early morning oxygenates your lungs and wakes you up if you are still half asleep.
If you have the possibility, you could take a little walk in the open air and enjoy the view with little traffic.
If you prefer to stay at home, you can simply go to the balcony or open the windows and take deep breaths.
5) Stretch your body
It is a good habit to practice healthy stretching even in bed as soon as you wake up.
This brings a lot of benefits, like:
improves elasticity and flexibility
activate the metabolism after a night's rest
it is also perfect for those who do not get along with sport
reduces sleepiness
relieves muscle pain
Every day after waking up, do 5 minutes of stretching. The results will be seen in the morning itself, believe me.
You may also want to focus on parts of your body where you are in pain or stretch to improve posture.
6) Make the bed
Do you know what is one of the things that saves me from going back to bed after washing my face? That of making the bed.
By making the bed, you not only make the room cleaner, but with the bed tidy you don't really want to get back under the covers.
So when you get out of bed, open the windows to air the room and wash your face in the meantime.
When you return, make your bed right away and get on with your routine.
Not going back to bed after waking up is the first step in planning a productive day.
7) Drink a full glass of water
Do you know that the body loses fluids during the night and that it is important to replenish them for the good functioning of the organism?
Drinking a glass of warm water as soon as you wake up on an empty stomach as well as hydrating yourself after hours of sleep, also brings many benefits with it.
These are:
detox effect
activates the immune system
accelerates the metabolism
promotes intestinal well-being
stimulates energy
helps hair and skin
If you really want to improve yourself, this is just one of the important tasks you should do in the morning.
You could always keep glass and a bottle of water near the bed so that you always have it with you both before going to sleep and as soon as you wake up.
8) Set priorities for your to-do list's task
In the morning, before starting your day, it is essential to understand what you want to accomplish during the day.
This is one of the morning habits that will change your life you need to start adopting if you haven't already.
Having a visual to-do list and prioritizing tasks can make your day more organized and you will be more productive, avoiding getting to the end of the day without having done something.
I usually make my to-do list the night before during my night routine for a productive morning, and if I've forgotten something, I add it in the morning.
Then in the morning, I assign priorities to each task and start in order of importance, following these 11 tips to increase productivity and beat procrastination.
Having a habit of writing a to-do list can make you a more organized and productive person.
9) Practice daily affirmations
There are days when the day may not start as you would like, or you don't feel in the right mood.
In those cases, you could help yourself with the daily affirmations.
Daily affirmations help motivate you, change negative thoughts into positive ones, and give you that extra boost to focus on your goals and your life.
For example, when I realize that I am watching too many episodes of F.R.I.E.N.D.S and I don't work on my blog, I go looking for motivational phrases or I watch videos on youtube of successful people who have managed to transform their lives.
Not even five minutes later, I'm at work.
As you can see, daily affirmations work. And you can read them of all kinds, from motivational to self-love and so on.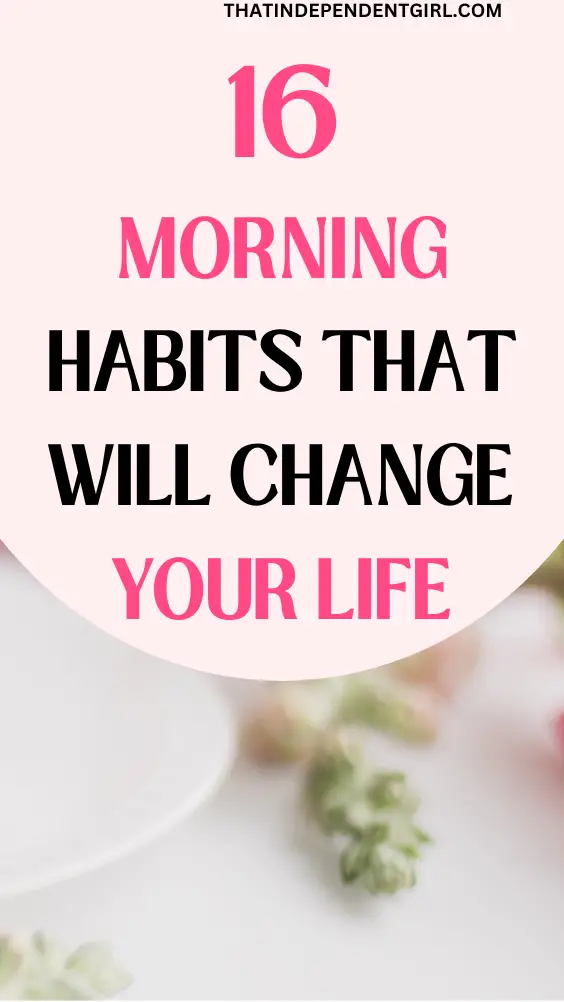 10) Eat a healthy breakfast
Many people I know don't know the word breakfast.
For them, breakfast consists of a cup of coffee and some biscuits, or they don't have breakfast at all and just eat a snack.
I have to say that when I was in school I had a good breakfast, but since I got a job, I only started to eat something in the morning.
I only allowed myself a real breakfast on Saturday and Sunday, because I had more time.
My sister started to point this out and from that day on I started waking up an hour earlier so that I could relax and prepare a rich and healthy breakfast.
Having breakfast is very important because it gives you the energy to face the day and eating also makes you happy.
11) Do some workout
This point may not appeal to everyone, because early morning workouts are not for everyone.
But a workout does not mean high-intensity physical activity.
Even a simple walk or pilates is perfect.
You have to find something that makes you feel good and that keeps you moving while respecting the level of training you have. It is useless to do strenuous workouts, so you run the risk of screwing everything up.
Respect your term and you will see that with time you will do more and more.
12) Practice gratitude
Have you ever stopped to think about all those things you have and realized that you are one of the luckiest few people in the world?
There is no perfect time to practice gratitude because in truth we must always be grateful that we have everything we have.
But thinking about it as soon as you wake up helps you face the day with more peace, and harmony in your heart and make you understand that even if some things go wrong, it's not the end of the world and you can overcome them.
You have the power to change those things and improve your situation, which is certainly better than that of thousands of people around the world.
13) Write in a journal
Writing down your thoughts and emotions in writing helps you understand which part of life to improve and grow personally.
With journaling, you discover what your true goals and dreams are and connect to your inner self, relax and let your thoughts flow.
it is also a good exercise to improve your writing and make yourself more creative.
So why not take advantage of it and make it part of your morning routine?
14) Read your favorite book or listen to a podcast
Instead of looking at your cell phone, why not grab your favorite book and read it?
To make sure you have a happy day, it's also important to do things that can relax our minds, like listening to a motivational podcast or reading a book of your favorite genre.
There are days when I take the book and read it while sipping my green tea. It calms and relaxes me at the same time.
15) Don't touch your phone before breakfast
This is one of the morning habits that will change your life for the better.
Do not touch your cell phone in the morning as soon as you wake up and before breakfast is a cure-all for the mind.
It helps you focus on more important things, like your body, good morning time with loved ones, and more.
Furthermore, the use of the mobile phone as soon as you wake up could also ruin the mood.
I don't know how many times I've been in bed with my cellphone, on Instagram scrolling through other people's feeds.
All I got was a great waste of time, time that I could have used for something more productive, and a sense of inadequacy in my life seeing that of others who seemed to be happy.
So for me, it has become a rule not to touch the phone until breakfast and better yet, drastically reduce its use during the day.
16) Visualize your life
How do you see yourself in the future? What are your projects and what would you like to have accomplished from here in five years?
Visualizing life is something everyone does. There are those who dream of buying a house or those who see themselves as someone who is always around the world.
Thanks to the visualization, you can decide what to do to get to your final destination.
Whatever your dream is, it is important to visualize it with open eyes and be realistic with yourself.
In the end, everything is possible if we have the desire and the motivation to chase our dreams.
Conclusion
These are 16 morning habits that will change your life.
Creating a good foundation for your day is the key to changing your life.
Of these sixteen habits, I didn't follow even one, I was a very disorganized and lazy person.
Now on these sixteen, I already follow eight. It didn't happen overnight, but with commitment and willingness to change, it can be done. For me, it is already a big step.
If you want to start too, decide a point or two and start, don't wait for tomorrow.
I hope this article was helpful to you.
With love,