Let me guess. You have set yourself the goal of starting the morning successfully, being productive, and getting on with the work but every day, even if you have slept for hours, you always wake up tired, unmotivated, and with the desire to go back to sleep?
This happens because you don't have a good night routine, which allows you to rest properly, and above all because you don't take the time for yourself after a stressful day.
This naturally leads to fatigue and demotivation the next morning.
So what can you do to always be on top and start a successful day?
The secret is to have a nighttime routine that prepares you mentally and physically for the next day.
People underestimate the power of the self-care night routine, which has the potential to relax the mind and body and thus ensure a good sleep.
In this post, I'm going to explain why it is so important to have a nighttime routine and 10 things you should do every night before going to bed to start your day on the right foot and have a productive and successful morning.
If you want to have a productive day, don't forget to check these 11 helpful tips that will help you increase your productivity.
Pin it for later!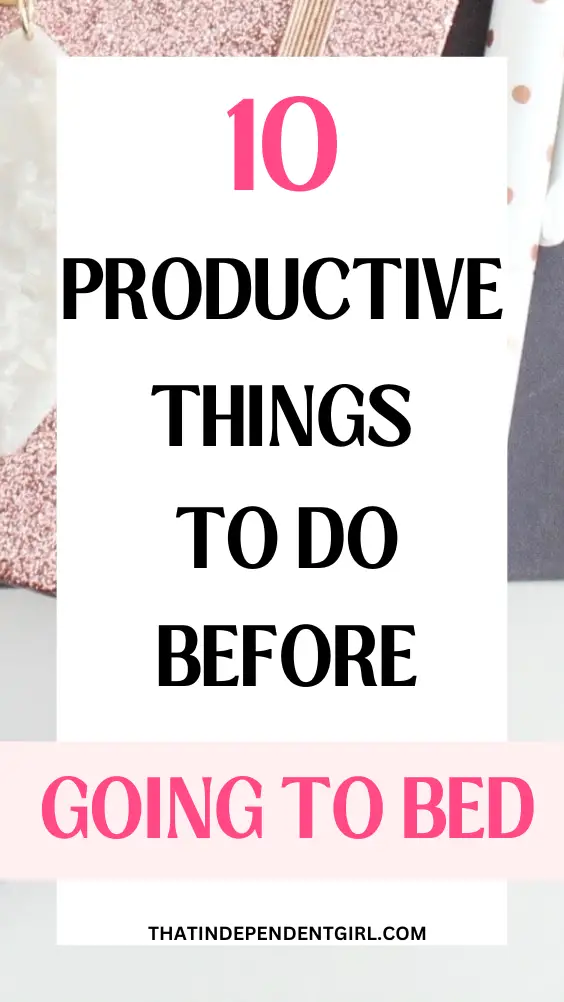 Things to do before bed for a productive morning
When it comes to a productive day or motivating day, then we always think we need to have a good morning routine.
When it is true that we need to develop good habits for the morning, it is also confirmed that the night before plays an important role in whether the day will be spent successfully or not.
Your productive day depends on how you spent the night before.

If you intend to have a productive morning then it is important that you have a productive night time routine as well.
Let's see the 10 things to do before bed for a productive morning full of energy.
1) Prepare things for the next morning
Preparing your things in advance the night before can be of great help.
Do you have an important appointment at work? Prepare your documents.
Don't have much time to indulge in a proper breakfast? Prepare it the night before.
If you go to school, prepare your backpack before sleeping.
Will it be a rainy day? Get your clothes and umbrella ready.
If you manage to prepare yourself for the next morning, I assure you everything will be easier and you don't run the risk of forgetting important things.
2) Declutter
Tidying up your house at night might seem like a nightmare, especially if you've had a tiring day.
It's very easy to go to sleep and postpone cleaning until the next morning, but can you wake up with the mess?
I would honestly feel unmotivated. So better do it the night before.
You don't have to clean the house from top to bottom.
Try to set aside at least ten or twenty minutes each night to do some household chores, such as tidying up the room or washing the dinner dishes.
So the next morning you will have even more time for yourself.
3) Plan out your next day
Going to sleep without setting goals for the next day will not make you productive at all and you will also not know how to organize yourself during the day.
So what could you do?
One of the best ways to organize your to-dos is the to-do list.
It is a really useful tool to reach your goals and meet deadlines, both in private and professional life.
Knowing what to do the next morning helps you eliminate confusion and make you productive instead.
So before going to bed, write down the things you intend to do in your journal or on a piece of paper and keep it in a visible place.
This is a way to encourage yourself to be more active and motivated.
4) Manifest
One thing that I have recently started to do is to quiet my mind and think about the life I would like to build myself, and what I would like to achieve.
By picturing the situation in my mind, I get clear on what I would like to achieve and what I should practically do to achieve it. This helps me focus on my goals.
The best time to get clear and manifest what you want from life is before going to bed.

Try to remove all distractions, close your eyes, take deep breaths and imagine the things you want to happen.
At first, it might make you laugh because you think that they are all impossible things to achieve.
But I assure you that visualizing what you want to be, currently helps you to become it and motivates you to be more productive the next day.
5) Do something relaxing
After a busy day, we all need a recharge from fatigue.
The night is the perfect time to do something relaxing for yourself.
For example, this could be a warm bath, a foot massage, reading your favorite book, or listening to relaxing music.
But it could also be spending time with family, sipping a relaxing tea, or journaling.
If you make time for these activities, your body and mind will thank you because you will have taken some time to do what you like and above all, you recharge yourself from the stressful day.
6) Take care of your hygiene
In the morning we have usually a busier schedule and we don't even have time for ourselves because we get caught up in the pressures of the day.
So if you can't find the time in the morning, why not move it all to the evening?
Start taking some time for your hygiene before bed.

Make the face mask you wanted so much, moisturize your skin or apply nail polish.
By taking care of yourself aesthetically, you will automatically feel more beautiful and confident.
Pamper yourself because you deserve it!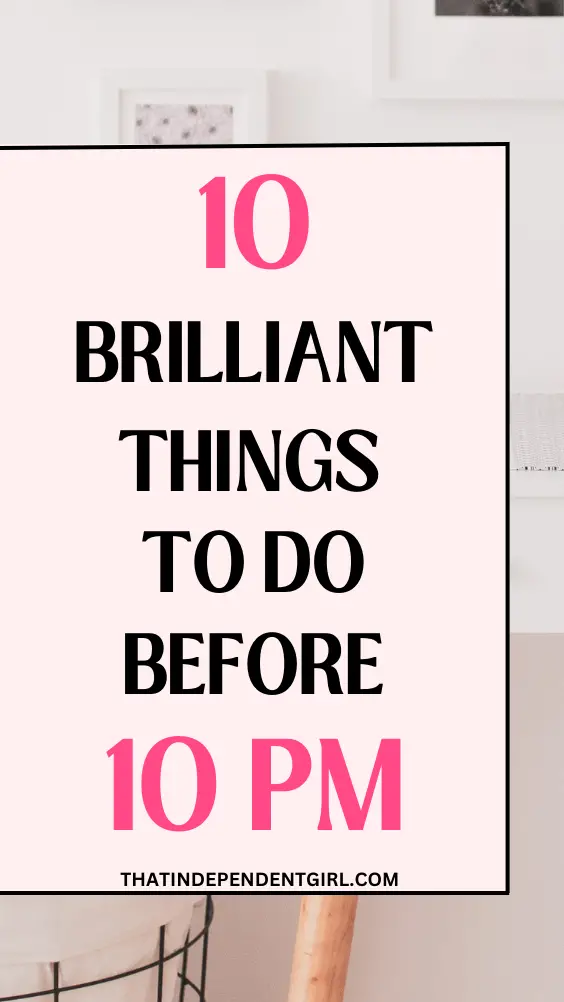 7) No screen one hour before bedtime
Have you ever found yourself unable to fall asleep even if it is late and have a hard time waking up the next morning?
Unfortunately, this happens to everyone and one of the reasons that lead to this is the use of the mobile phone before going to bed.
In fact, blue light limits the production of melatonin in the body with the result that you cannot sleep.
From now on, start detaching yourself from the screen at least an hour before bedtime.
Turn off the TV and phone and do things that can promote sleep, like reading a book or just lying on the bed.
I tried it myself because I was used to always being on my cell phone at night.
I started turning off any device and reading a book instead. It works wonders and I started waking up early too!
8) Prepare the environment
What could be nicer than going to bed in a clean, comfortable environment that makes you want to fall asleep?
Preparing the mood before going to bed could be essential if you don't want to spend your time in bed tossing hoping to fall asleep.
Many light candles or play relaxing music in the background.
I recommend changing the sheets and the pillowcase often.
In this way, you make your bed more inviting and you probably fall asleep faster.
Dim the lights, put on comfortable pajamas, and go to bed.
9) Stretch your body
Whether you spend most of your time sitting in front of the computer, or you stand on your feet for hours, your body needs to relax at the end of the day.
Before going to bed, start practicing something relaxing for your muscles.
You could try yoga, pilates, or just some stretching.
Practicing relaxation activities, both mental and physical, allows you to release some of the tension you've built up during the day.
10) Practice gratitude / Pray
Every time a day ends, we have to take some time for ourselves and reflect.
What went well?
What could be improved?
What did not go according to our expectations?
Reflect upon the things you are thankful for.
You should be grateful for everything you have, for every day that is granted to you, and realize that unfortunately, not everyone has this luck.
Practicing gratitude, can make us happier people, with ourselves and with others, improve our health, and helps us be more resilient.
I am used to praying and thanking God for everything, even in challenging times.
You can start writing all your thoughts on a piece of paper, pray, or simply be aware of all your blessings.
Conclusion
Here are the 10 productive things to do before bed for a productive morning
Having a nighttime routine may be difficult at first.
But don't give up, start implementing something new at a time.
Successful people know what they want, prioritize and develop positive habits that can bring positivity into their lives.
So start this healthy routine and you will be more productive and motivated the next morning.
With love,