What does it mean to be organized, and how can you become one? This is a question I've been asking myself for a long time.
I thought that being organized was an impossible thing for those who were not already organized as a child, or that it meant sacrificing a lot of free time just to have two things in order.
It was always a struggle for me to keep the organization, and after a while, I always gave up everything.
But lately, I realized that the reason I couldn't organize myself was that I had completely wrong habits, and that obviously they brought me confusion and disorganization.
So I decided to do some research and find out how certain people get organized. I have begun to implement these habits in my life, and I only just started this journey.
If you are wondering if they really exist and you want to become one of them, I have good news for you.
Organized people really exist and you can absolutely become one of them.
They were not born such, but they have become it by developing good habits.
If you want to know what these habits are, then you are in the right place.
Today in this post, I will list 19 habits of highly organized people that you can start developing yourself.
Pin it for later!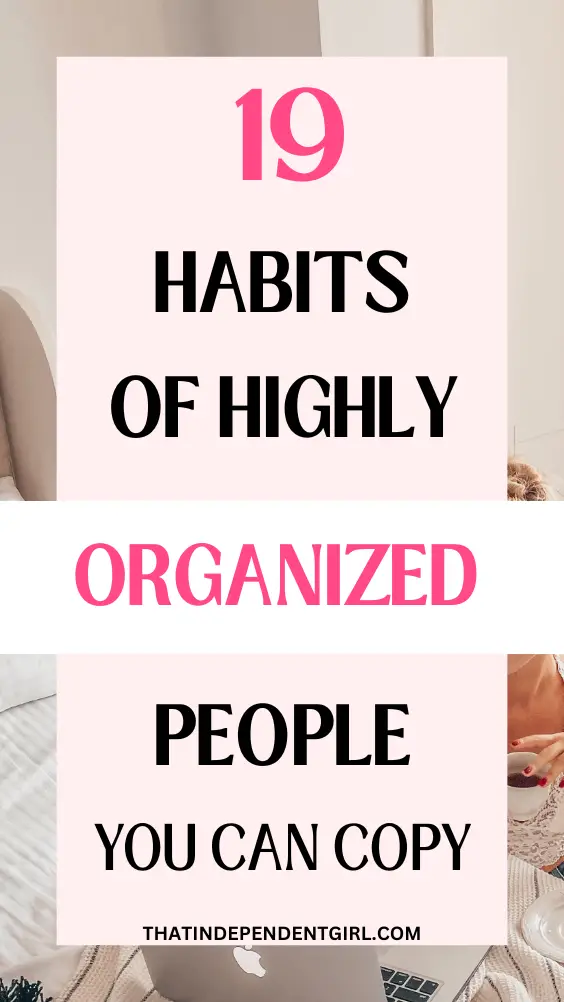 Habits of highly organized people
Being an organized person brings many benefits in everyday life, so it is important to develop the right habits as soon as possible.
Here are 19 habits of highly organized people you can start practicing.
1) They write things down
Organized people, to stay organized, have the habit of writing everything down so as not to forget anything.
During the day it is easy to get lost in commitments and forget something, so writing things down is essential to avoid stress too.
Whether it's to-dos, grocery lists, or appointments, it's best to put everything in writing and easy to consult.
A ballpoint pen and a few sheets of paper are the best things to keep in mind the important things and above all, what is written remains.
If you don't particularly like pen and paper, you can also use your smartphone or computer. If you think you can remember all the important dates and all your commitments by heart, the result will only be that you have complicated your life.
2) They use the start of the month to plan and get organized
One of the habits highly organized people have is to plan their things already at the beginning of each month.
If you think about it, it is also a brilliant idea that allows you not to leave out the essential tasks and to plan the things you would like to do only in that given month, making them more achievable.
And if there is one thing organized people hate to do, it is to over-plan or not to plan at all.
If you want to know what the things to do every month are, I suggest you take a look at the 13 things to do at the start of a new month to get organized.
3) They do tasks right away
Highly organized people don't procrastinate and put off things for later. They know that the sooner they get the task done, the sooner they get it out of the way and the sooner they'll be free to enjoy their free time.
When they have a task to do, they take some time out and do it right away, so they don't have to think about it later and avoid carrying everything at the last minute.
I started doing it too, and it seems like a tiring thing at first, but once the task is removed, you immediately feel freer.
4) They use calendars, planners, and to-do lists
It is not possible to stay organized only with our mind, we also need other things that support us.
And this is where calendars, planners, and to-do lists come into play.
Organized people make good use of these objects, and they are never lacking in their homes.
Calendars, planners, and to-do lists are a huge help when it comes to organization.
In fact, they write down all their commitments, goals, deadlines, appointments, and anything that needs a little time. So they can organize themselves based on the things they have pinned down and know when they are free and when they are busy.
If you want to be organized too, don't miss one of these things. It allows you to plan your days and take your organization to much higher levels than it is now.
5) They follow a daily to-do list
A daily to-do list is nothing more than a list of the things you have to do on that particular day.
One of the habits of highly organized people is just that. Write a daily to-do list to be completed by the end of the day.
This helps them to plan in a realistic way the things they absolutely have to do that day and to divide them evenly throughout the day,
So they don't get stressed and are able to settle with other commitments, such as an outing with friends or an evening with family.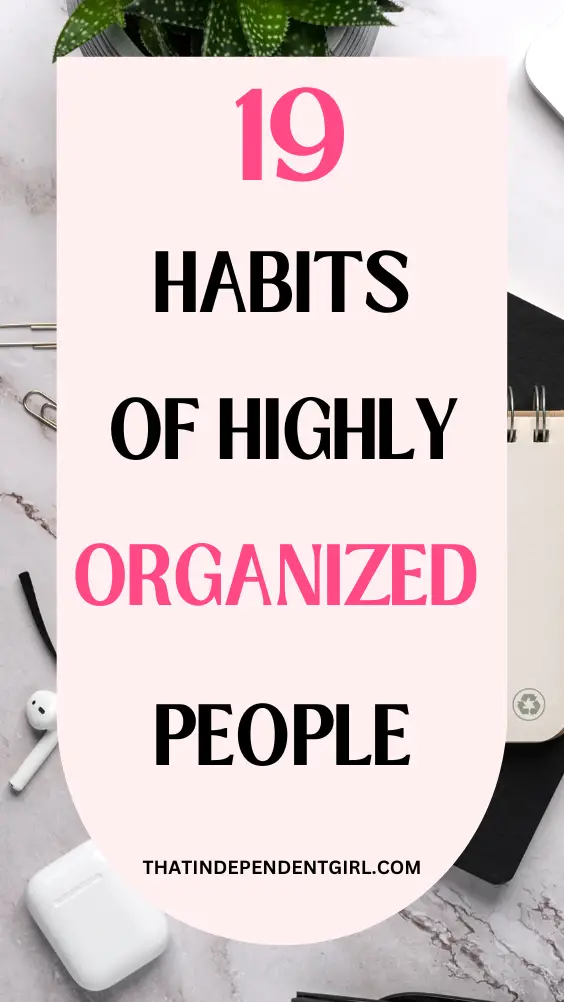 6) They clean along the way
People who are organized have a habit of arranging all their stuff and keeping everything tidy as the day goes by.
For example, if they have finished eating, they wash the dishes immediately. Or early in the morning, as soon as they get up, they make the bed right away without waiting too much.
This is one of the habits that I have begun to implement as well.
Cleaning something right away turned out to be a good weapon against disorganization and everything stays cleaner.
7) They schedule their tasks
Organized people are not only fond of the to-do list, but they also have a habit of scheduling their tasks.
This means that for each task they have, they set a start time and an end time.
So they know they won't waste time and it becomes much easier for them to organize themselves throughout the day, knowing exactly what they have to do and when they have to do it.
They find it important to write down every single task, whether it takes a few minutes or hours so that they avoid planning too many things or too little.
8) They make lists
Making lists for every single area of ​​life is one of the habits of highly organized people.
Lists help them organize and restore order in their lives and above all not forget the most important things.
They can include a password list, a favorite skincare product list, an improvement list, a goal list, and much more.
Making lists are very useful for bringing organization and simplicity into an everyday chaotic life.
9) They use their Sunday to plan their week
Highly organized people don't just plan at the beginning of the month.
They always plan, and to ensure a smooth week, they use Sunday to organize and plan for the week.
Before going to bed, they compile a weekly to-do list and check the calendar or agenda for various commitments.
They try to leave time for themselves too and not to occupy every hour of the day.
The advantage of Sunday planning is to prepare for the coming week with more motivation and plan a few tasks a day to live the week with more peace of mind.
10) They meal prep on weekends
Have you ever heard of people who are organized but don't know what to cook for dinner?
Meal prep is a great help to be more organized in the kitchen, and this is precisely one of the habits that highly organized people use. They meal prep every weekend for the week ahead.
In this way, they know what to eat and what to buy, avoiding wasting time and above all the stress of not knowing what to cook.
11) They have a daily routine and stick to them
Highly organized people develop a productive and organized daily routine and stick to it no matter what.
To stay organized it is essential to create daily routines to follow, both in the morning and in the evening.
This allows them to know what to do and prepares them to face the day more easily.
To prepare yourself for a good day, you can read these 10 things to do every night before bed for a productive morning.
Likewise, they have a morning routine that prepares them for an organized and productive day.
So if you want to be an organized person, start developing an ideal routine for yourself and stick to it.
In this way, you will also wake up with a purpose and you will be more motivated.
12) They keep their workspace clear and organized
One of the best habits of highly organized women is obviously to keep the place where they work always clean and tidy.
This means that they have a dedicated space where there is always all the material they need and a comfortable environment available that makes them feel motivated and productive.
It is important to have an organization that is also perfect for work as this is part of everyday life and a clean and bright place is an effective way to stay organized.
13) They take advantage of downtime
Downtimes are those times when you have nothing special to do and are free.
Highly organized people take advantage of those downtimes and instead of doing nothing, they use them to do something productive.
For example, if they have an hour free, instead of roaming around the house, they use that time to organize their tasks and tidy up their things so as not to carry everything at the end of the day when they are more tired and just want to relax.
Being organized also means dedicating that little time each day to keep the organization organized and avoid creating disorganization disorder.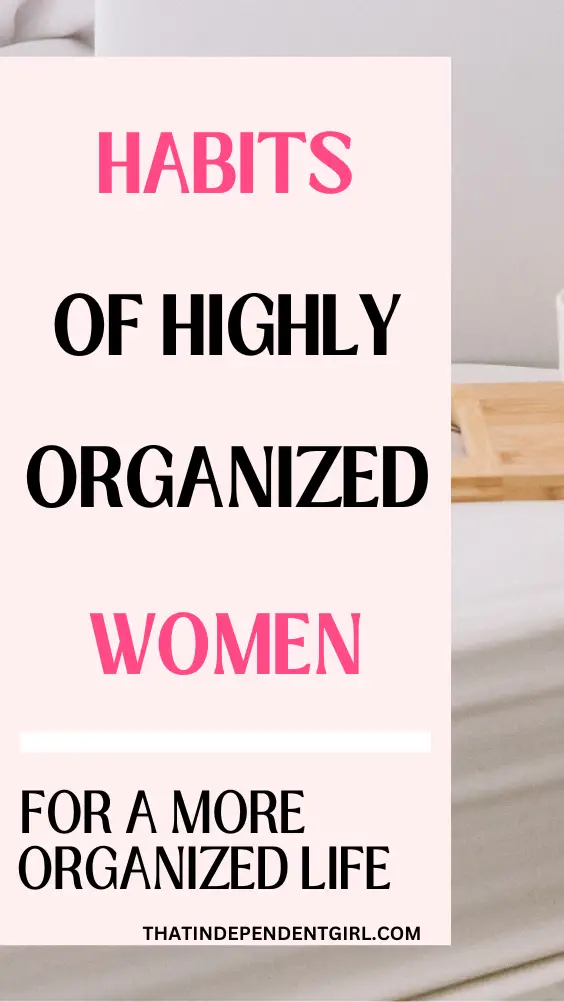 14) They do one task at a time
Super-organized people all have one thing in common. They don't multitask, instead, they only do one task at a time.
Multitasking is known to be harmful both for productivity and for the organization, because many things are done at the same time, and it is practically impossible to do them well.
So they prioritize each task and do it one by one.
Doing many things at the same time leads to disorganization, and this is not what they want.
If you want to be organized too, get into the habit of doing one task at a time. The result will be better and you will be able to organize yourself better for other tasks.
15) They only keep things with a home
Have you ever seen the house of organized people? If you noticed, they have a clean house and everything has a place.
You will never find a lost book on the table or the lamp in the middle of the living room.
That's right, organized people, before buying items, ask themselves if they really need it and especially if they have a place for that item.
They hate clutter around the house or the risk of not finding something they are looking for, which is why everything has its specific place.
16) They don't buy things without a plan
As mentioned above, highly organized people don't buy stuff without a plan.
To keep their life organized, they know they shouldn't buy things that have no purpose or they know they won't use them for a long time.
Instead, they buy things they really need, thus avoiding a confusing house full of unusable objects.
A house with few but essential items makes life simpler and truly organized and clean.
17) They set small and achievable weekly and daily goals
Let's not forget one of the most important things they do.
Another of the habits of highly organized people concerns goals.
They know that aiming for big things in no time only leads to disappointment and frustration.
So what do they do? They set small and achievable weekly and daily goals that bring them closer to their final goals.
Organizing in this way they know that by working slowly they are approaching their goal but at the same time, they do not get stressed and manage to keep the organization.
18) They create a decluttering and cleaning schedule
Highly organized people never forget to keep order in the house, which also contributes enormously to mental order.
Those with a clean home tend to have better organization.
Highly organized people have the habit of creating a decluttering and cleaning schedule and they stick to it.
This means they have a system for keeping the house tidy.
For example, one day they dedicate themselves completely to two rooms, another day they organize the desk, another day they vacuum, and so on.
If you want to start organizing the house, I highly recommend that you make a plan and assign a day to a specific room.
19) They work hard to stay organized
Finally, highly organized people weren't born organized or did not become organized right away.
They have made it through hard work and continue to do so.
Habits take a long time, but with patience, they have developed good habits that help them stay organized.
Conclusion
These are the 19 habits of highly organized people that you can copy.
If you want to be organized, you can take a cue from their habits and start practicing them too.
I hope this article has given you some ideas for becoming an organized person.
With love,