We all have 24 hours in the day, yet not everyone gets to do what they want during the day because they are "running out of time".
But what does this mean?
Let's take an example of a person who wakes up in the morning, and manages to do his workout, cook, work on his goals, and also has time to go for a walk, study a history chapter and watch a movie in the evening.
And you, on the other hand, having trouble finding some time to write a paragraph for your new blog post?
What do they do differently? How can they have more time than you have?
If you're trying to be productive and would like to take inspiration from all those people who manage to accomplish so much in a day and in a lifetime but find that you can't, then you're probably doing something wrong with your time.
The problem lies in time management and above all in the habits that make you waste time without you even realizing it.
If you want to have more time for the most important things and to know where you are wasting all this time, then read on.
In this post, we are going to talk about 36 worthless things to stop that are wasting your time and that are holding you back from your potential.
Pin it for later.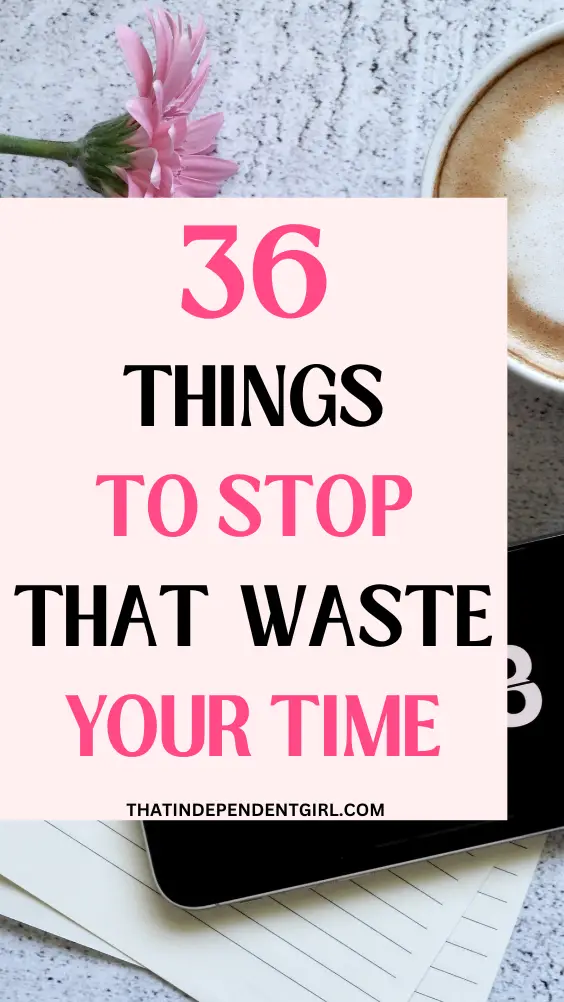 Things to stop that are wasting your time
Before we start with the list, I want you to be honest with yourself. If you really want to have more time and find yourself doing one of these things, your best bet would be to get rid of that habit and start implementing something better.
Pick one thing at a time, and once you have mastered it, move on to another. Let's start!
1) Not enough sleep
The first thing that wastes your time is not having proper sleep.
It is obvious that a person who does not sleep enough or who often wakes up at night does not have the right strength to face a day properly and will always feel tired.
By not getting enough sleep, you will be tired and you won't have the motivation to even start the simplest task of your day and procrastinate.
Solution: start going to sleep early, preferably around the same time, and don't use your cell phone at least one hour before going to sleep.
2) Doing things you are not interested in
Doing things that you are not interested in is one of the factors that wastes precious time.
We only have 24 hours in a day and whether you like it or not, time passes, and doing something you don't like or don't care about can only impact your productivity and the time you could have used to do something better.
Solution: find activities that you are passionate about or something that can replace the things you are not interested in.
3) Complaining
Complaining about everything that happens to you in life is one of the worthless things you need to stop which is wasting your precious time.
Complaining only reinforces your negative thoughts and emotions and tires the people around you.
You will also just see the bad in all situations and tend to give up too easily.
Solution: instead of complaining, whenever you feel overwhelmed try to breathe and accept the changes that happen in your life. Remind yourself that there are positive things too and be grateful for everything you have.
4) Constantly checking social media and your phone
Did you know that on average we waste 2 to 4 hours on social media and playing mobile games? These are on average 20 hours a week that you spend on your phone!
I know how addictive social media is and unfortunately, not everyone realizes it, but always checking your social media is not good for your mental health and it doesn't bring anything productive into your life.
Solution: if you have this habit, the best thing is to find something you enjoy doing, such as painting or reading, and spend time with these activities.
Also, try setting a timer and checking your social media or your phone only once every 3 hours and then once every 6 hours. Over time you will notice that you don't need to check your social media all that much.
5) Low motivation
We can all experience low motivation sometimes, but if it's a frequent thing, then it means that you don't have a goal in mind to aim for and you tend to procrastinate on the things you have to do.
This wastes a lot of time because if you don't have motivation, you will always feel stuck and you won't be able to accomplish what you have set to do.
Solution: It's important to spend time with yourself and your thoughts to get your motivation back.
Don't forget to set goals that you really want to achieve and break them into small achievable chunks.
Lastly, surround yourself with positive people who can motivate and inspire you to do better.
6) Comparing yourself to others
This is definitely one of the worst things to stop that are wasting your time. Comparing ourselves to others only makes us inferior and takes away the respect we have for ourselves.
Unfortunately, nowadays comparing ourselves to others is done more often, but it is a harmful habit towards ourselves.
Solution: I want to remind you that each of us is special in its own way and that we have different pasts and different life paths. So never compare yourself to others.
The only person to compare yourself to is yourself. Become a better person than you were yesterday.
7) Not being intentional
Not being intentional with your time is itself a waste of time.
If you have to live a life doing things imposed by others or not having a goal, and not knowing what you want out of life, then you are not living it as it should be and you are wasting precious time that you can use to build what is called a dream life.
Solution: use your time intentionally, prioritize the things that are important to you, build a daily routine, use to-do lists, break the habit of multitasking, and get comfortable saying no to anything you don't want to.
Time passes anyway, and it's important to know what you want out of life and make room for everything you want out of it.
8) Staying up too late
Even if you think that staying up too late is not a waste of time, since you can do many things, the reality is that staying up late is not good for your health at all and you are much more tired the next day.
The result? The next day you will feel very tired and with little wish to get things done. That includes working on your daily tasks, on your goals, and falling into an unproductive mood, which will result in a waste of time.
Solution: set a time for bedtime, whether you have things to do or not.
Prioritize your sleep and postpone what you could not finish today for tomorrow.
9) Holding grudges
Holding grudges is one of the most detrimental things to your mental health, as it fills your mind with negative thoughts and anger against a person or situation that hasn't done you any good.
Aside from not being good for your mental state, holding grudges is also a waste of time. If you hold grudges, you waste energy behind someone who doesn't deserve your time and thought which also leads you to develop anxiety, depression, and lead a miserable life.
Solution: if someone has hurt you in the past, person that person and move on.
You have a wonderful life alongside you, and dwelling on the past is not smart nor it makes you live a nice life.
Start writing in a journal and put your feelings on paper, stay positive, accept the situation, and move on.
10) Negative relationships
Anyone who's been through it knows what it's like to be in a negative relationship, whether it's love, friendship, or family.
A negative relationship always makes you feel bad, misunderstood, unsupported, and unloved, and being with them just makes you absorb their negative energy.
Life is only one and relationships are at least what we can decide to hold on or walk away from. Being with people you feel bad about, is a great waste of time that you can currently give to those who love you as you are and with whom you are happy.
Solution: since you have the power to decide who to let in your life and who to surround you with, always choose people who can bring positivity and happiness into your life and which makes your life even more interesting and positive.
11) Not having a proper place for your things
How many times have you looked for something and not found it in the place you thought it was?
If you have many things scattered around the house or you don't have a fixed place for your things, it is good that you realize that it will always take you a long time to find something.
This can take up to 5 to 20 minutes of your day. Is it really worth it?
Solution: assign a place to each object, preferably grouped by category.
For example, if you have a lot of make-up, you might think about getting a make-up box and keeping them near your desk, as well as your comb and hair straightener.
It will be easier for you to find everything in one place.
12) Oversleeping
Oversleeping is one of the most frequent and common causes of wasted time. Who doesn't prefer to rest for an extra hour rather than get up and try something productive?
Oversleeping makes you unproductive and most of the time we sleep longer just for comfort or laziness.
Solution: try to establish what time to wake up each morning and stick to it.
If you want to start waking up early and become a morning person, then you should start by going to bed on time.
13) Saying yes too easily
Unfortunately, this is a problem that many of us face to be kind to others. Saying yes to everything that is proposed to us only wastes your time and you do nothing but put yourself in last place.
Think about that birthday you were invited to but you don't care in the slightest but you said yes? Well, how much time could you have dedicated to something that really interested you?
Solution: learn to politely say no to all those things you disagree with and start thinking more about yourself and give importance to your plans.
14) Overloading your to-do list
Writing a lot of things on your to-do list and thinking you're productive is actually not the case at all, instead, it's a big waste of time, because it will be very probable that you will not be able to complete everything or you will complete them with poor quality.
Overloading your to-do list can leave you feeling stressed and a long list can quickly demotivate you.
Solution: try to prioritize your tasks and write down at least 2 or 3 really important things that you will have to complete that day and give a defined time to each task.
15) Overthinking
If you're used to overthinking a lot, you know perfectly well how much this act can take up a lot of time and time that you can use to do better things.
Overthinking is nothing more than thinking about something that hasn't happened yet or has happened with all possible variables, or dwelling on the past.
Is it really worth it? You will not enjoy the moment and you will never be calm.
Solution: be present at the moment and don't think about "what if" or "but", instead think about positive things and that everything that has happened or will happen, is only because this is how it has to go.
Don't stress yourself with these thoughts, take a breath and live your present as it is.
16) Watching too much tv
How many times have you started a series after lunch and arrived at dinner without realizing it? Watching too much tv, as fun as it may be, eats up your time and slows you down from reaching your goals or not taking care of yourself properly.
Sometimes it can be fine but be careful that it doesn't become a habit!
Solution: just pick an episode or movie and schedule something else after the movie.
If it's difficult for you, you could set a time in your day when you can reserve it only for movies, such as after lunch, then after that turn everything off and dedicate yourself to something else.
17) Staying in a job you hate
There's nothing worse than being in a job you hate and working at it all your life.
And you'll notice this when you get out of bed and you won't feel like doing anything and you'll think who made you do it.
If you do something you don't like, you'll regret it later for wasting so much time on it.
Time flies and waits for no one, so it's best to look for something that really brings you fun and that you like.
Solution: if this requires more study or more time, start working on it and don't wait for the right moment. Once you reach your goal, you can do the job you love forever and no one can take it away from you.
18) Perfectionism
Perfection doesn't exist, and trying to be perfect or do things perfectly is just one of the things to stop that are wasting your time.
This doesn't mean that you have to stay as you are and do things randomly, on the contrary, you must always give the best of yourself. But trying to be a perfectionist just stresses you out, and… there is simply no such thing as perfection!
Solution: always give your best, do your best but also try to enjoy life and allow yourself to make mistakes.
19) Long phone calls
How many times have you called someone or received a call that lasted for hours?
Maybe you even hear about them every day, but there is this habit that is difficult to remove.
Staying in touch with loved ones is very important, but it is equally important to know how to make the most of your productive time and prioritize the important things.
Solution: try to make a call last 20 minutes maximum and end the call politely. Try to divide your time evenly, and recognize when it's time to hang up.
20) Not planning
Not planning can result in a big waste of time, and do you know why?
If you don't plan, you don't have a goal and you don't know what you really have to do. And you also have the risk of forgetting about important things.
With planning instead, you have everything under control and you know what to do and how much time to give to each task, not to mention the high organization and productivity that you will bring to your days!
Sure there will be things you won't be able to stick to, but having a master plan is a great motivator, helps you achieve goals and use your time more efficiently.
Solution: before you go to bed the night before, or early in the morning, plan your days, plan your tasks, and plan your weeks.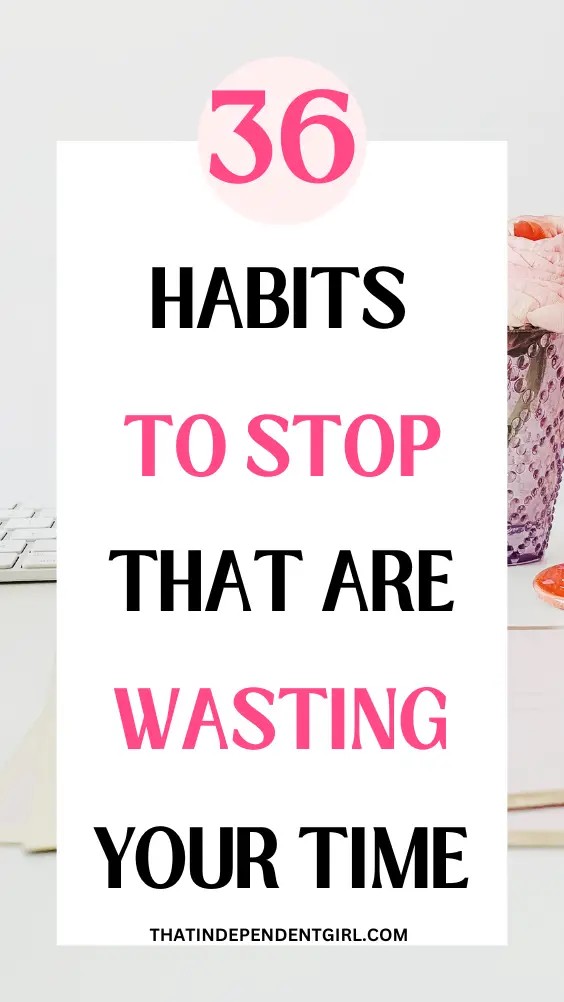 21) Multitasking
Contrary to popular belief, multitasking doesn't save time and isn't productive at all.
Engaging your mind in different tasks that are different from them confuses you, the result will be poor and stresses your brain.
Solution: focus on just one thing at a time, get it done, and only then start another task. Don't forget to set a deadline for each task.
22) Waiting for the right time
Do you know what the mistake most of us make? It is to wait for the right moment, thinking that the present is not.
How many times have you told yourself you wanted to do a particular thing but put it off because "it wasn't the right time"?
The present is what we have, and there is no better time than today.
Solution: if you have something in mind, do it, and don't postpone it. It can also happen that the right time will never come and you will always be at the same point. So why not jump in and see how it goes?
23) Doing too much / Overscheduling
If you think that doing a lot and overscheduling your day can lead to something positive, well, you're wrong.
As we have already said, your health, both physical and mental, comes first, and by doing too much, you will only get stressed and demotivated for the following days, with the result that you will waste precious time.
It will also make you lose the desire in anything you do and you will feel exhausted, giving up easily.
Solution: try to schedule at least 2-3 important things in the day, and divide the work. Don't do it all in one day.
Prioritize self-care and organize your schedule with a calendar.
24) Ignoring your health
Another of the worthless things to stop that are wasting your valuable time, is to put your health last.
If you do things that can make you sick or develop illnesses, how are you going to work on yourself and your goals? How are you going to be a happy person and enjoy life?
To do all this, you have to take care of yourself, not just physically. Even the mental part plays a fundamental role in our well-being. If we're physically healthy but down in the mood, we won't even want to get out of bed, that much our mind is powerful.
Solution: get regular medical checkups, eat healthily, and play sports, but also take time for self-care, time for yourself, journal, and practice meditation and deep breathing.
Do whatever makes you feel good!
25) Not having a grocery list
Imagine walking into a grocery store to buy groceries, and finding yourself wandering the aisles not knowing what exactly to buy.
Maybe you only wanted to spend 30 minutes in there, but you spend 2 hours?
Having a shopping list is essential, both to save time and to save .. money!
Solution: before you go shopping, check the kitchen and pantry for what you're missing or need, and write them down on a list.
26) Lack of prioritizing
Not knowing what to prioritize and giving equal importance to all your commitments is absolutely counterproductive.
If you lack on prioritizing things, you will waste a lot of time getting the most important jobs done and you will waste time achieving what is most important to you.
Solution: learn to prioritize your tasks and commitments and focus on the most important and upcoming things first, and the less important things later.
A list can help you with this.
27) Giving yourself too much time
Just as rushing without rest is not good, taking too long to do one thing is also unproductive and a waste of time.
We have to set ourselves deadlines and meet them if we want to be successful.
Solution: try to take the time necessary to carry out any task and for any commitment, but always give yourself a deadline. This way you can spend your time without stress but also know that you have to finish a certain thing within a certain time.
28) Procrastinating
They say "Procrastination is the thief of time". Nothing more true than that.
Procrastination is practically something that many do, either because they have other commitments, because they are not motivated and always feel tired, or because they are not interested in something.
Procrastination certainly doesn't help you buy time, because postponing things unnecessarily just makes you stay where you are, and the only thing that never comes back is obviously the time lost.
Solution: there are many ways to stop procrastinating, some of them are: set goals to reach, create an environment that can motivate you, give yourself regular breaks, and keep yourself accountable.
You can use these 11 tips to be more productive in your daily life.
Don't wait for the craving to hit you. Just start!
29) Snooze button
I can say that I found myself hitting the snooze button many times, but it was really a big waste of time because after I hit the snooze button, I stayed in bed doing nothing.
Just like me, there are those who fall asleep again and waste so much time, that can be devoted to something else, like waking up slowly instead of rushing out of bed and starting the morning on a bad note, or spending that 10 more minutes in self-care activities.
Solution: first of all, set your alarm for a realistic time.
After your alarm goes off, turn on the light or sit up in bed.
It may be difficult at first, but as you build this habit, you won't need to snooze your alarm later, because you will automatically get out of bed.
30) Engaging in negative self-talk
Talking bad about yourself and always thinking on the negative side or thinking you're not capable of doing something is a waste of truly precious time and a lack of respect for yourself.
Solution: we shouldn't engage ourselves in these things, instead, we have to work on ourselves, be sweet and love ourselves.
We are the first people who have to do it, because if not us, how can we think that anyone else will speak lovely to us?
31) Gossiping
Does gossiping about other people really bring anything into your life?
Even if we think it's funny or that we do it to inform each other, gossiping does nothing but hurt others because you help spread news that is not about you and it could create drama.
Besides it will trouble your inner and outer life.
Solution: understand if it's good gossip or bad gossip and try to always put a positive word and not entertain others with things you've heard.
32) Everyday news updates
As informative as it may be to know what is happening in the world, it is also important not to fill your mind with ever negative news, and to give your mind a break.
Mental health can really be negatively affected if we always give it negative news.
Solution: Check the news only a couple of times a week, maybe on weekends or early days.
33) Rudeness
We would have longed for a world where wickedness would have no power and where everyone is kind to everyone, but unfortunately, the truth is quite different.
In such an evil world, all we can do is make a difference by helping others.
Solution: we are all brothers and sisters in this world, and we must always behave well with each other, eliminating rudeness and giving a smile to every single person and living being.
34) Worrying about what other people think
Why waste time worrying about what other people think about us?
If we make a common choice they judge us, if we make a different choice they judge us.
If we live in fear of what people will think of us, we will not live our lives as we should, and risk depriving ourselves of things we love and doing things we do not tolerate.
Solution: don't waste time with these things and only do what is good for yourself.
35) Staying disorganized
Being disorganized is also a waste of time, as you don't know how to use your time, what to do, and how to work on your goals, but also not being able to find your stuff, always being late for anything and life gets messy.
Unfortunately, it is something that should be taken lightly, but a more organized life is an advantage for the future and you will have more time for things that are more important to you.
Solution: If you want to be successful in life and simplify life, it's also important to be organized.
You can copy these 19 habits of highly organized people.
36) Trying to please others
If there's one thing you don't like doing, why do it? Why spend your irrecoverable time to please people you don't even know, who don't even care about you, and who won't even do something nice for you?
Solution: Always be nice to everyone, but don't do things you don't love or do things that others expect of you.
Conclusion
Time is precious, and using it for worthless things is really not worth it.
I hope this article about 36 things to stop that are wasting your time has been helpful to you and I wish you a good use of the time!
With love,