Are there really 5-minute self-care activities for the mind, body, and soul to put into practice?
Doesn't self-care mean going to the spa, taking a warm and perfumed bath with a manicure and pedicure, or going to the hairdresser to make yourself beautiful?
If you've thought of self-care as something big and expensive, then I want to correct you.
You're not the only one who has thought so at least once.
I too used to think that self-care is something that could only be done if you had money, time, and special items available.
But self-care doesn't mean this.
Self-care doesn't have to be hard, expensive, or take a lot of time at all.
Self-care is those acts, which, even if small, tend to make you feel good mentally, physically, and spiritually.
For those who have little time but want to dedicate themselves to self-care, only 5 minutes a day is also perfect.
In this article, I'm going to make a list of 5-minute self-care activities for the mind, body, and soul that I've managed to put together.
But before we start, let's see how to practice these 5-minute self-care activities.
Pin it for later!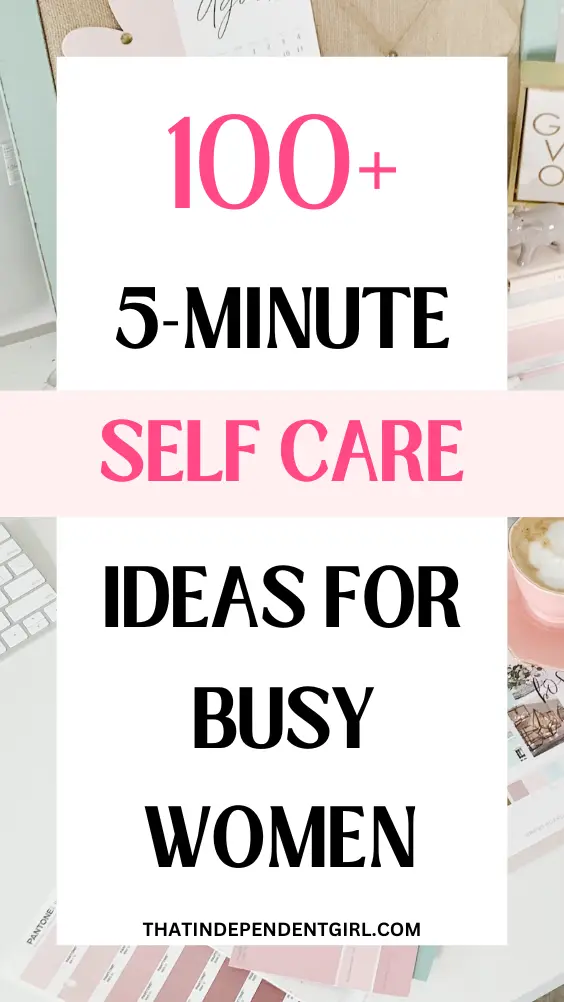 How to practice 5-minute self-care activities for mind, body, and soul
To practice these 5-minute self-care activities, you need at least 5 minutes of your time, or even more if you have more time, and love for yourself.
In this list, you will find:
37 5-minute self-care activities for the mind
30 5-minute self-care activities for the body
36 5-minute self-care activities for the soul
Take a look at this list and grab a few ideas to do some self-care in under 5 minutes.
5-minute self-care activities for your mind
1) Have a cup of hot chocolate
2) Listen to an inspirational speech
3) Read your favorite blog
4) Blast your favorite song
5) Listen to the rain or watch the snow fall softly to the ground
6) Make your bed
7) Buy yourself something online
8) Focus on the world around you
9) Make a list of your favorite things
10) Write down 3 things you are grateful for
11) Tidy up your room (see what you can do in less than 5 minutes)
12) Cross everything off the to-do list and reduce it to the essentials
13) Write down your goals for the week
14) Open your curtains and window to let sunlight and fresh air in
15) Make a vision board
16) Watch videos that make you laugh
17) Eat ice cream
18) Buy yourself flowers
19) Watch the sunrise or sunset
20) Do something that makes you laugh
21) Fix a small problem at home that's been nagging you
22) Change your sheets
23) Find a mouthwatering recipe for lunch/dinner
24) Have a cup of tea
25) Walk barefoot on the grass
26) Make a bucket list
27) Sit in the sunlight
28) Find a positive person to follow on social media
29) Write 5 things you love about yourself
30) Simplify your schedule
31) Reflect on your personal mission statement
32) Get to work 5 minutes earlier
33) Unfollow or mute toxic people on social media
34) Reward yourself
35) Create a to-do list to help clear the mind
36) Speed clean your workspace
37) Color a doodle
5-minute self-care activities for your body
1) Brush your hair
2) Put on your favorite skin cream
3) Eat a piece of cake
4) Wear make-up
5) Stretch your body to relieve tension
6) Paint your nails
7) Drink a glass of water to hydrate yourself
8) Make yourself
9) Give yourself a body massage (or let someone do it for you)
10) Take a quick walk
11) Put on nice clothes
12) Apply a hair mask
13) Do some relaxing yoga
14) Drink a healthy smoothie
15) Lay down to recharge yourself
16) Take a quick shower
17) Practice deep breathing
18) Give yourself a foot massage
19) Take deep breaths
20) Have a foot soak with warm water and salt
21) Go for a walk under sunshine
22) Make a healthy snake
23) Dance to the beat of your favorite song
24) Practice breathing techniques to strengthen your lungs
25) Practice good posture
26) Use a foam roller to release tension
27) Brush your teeth
27) Give yourself a scalp massage (good for promoting hair growth)
28) Put on lipstick or lipgloss
29) Pick out your clothes for the next day
30) Put on some perfume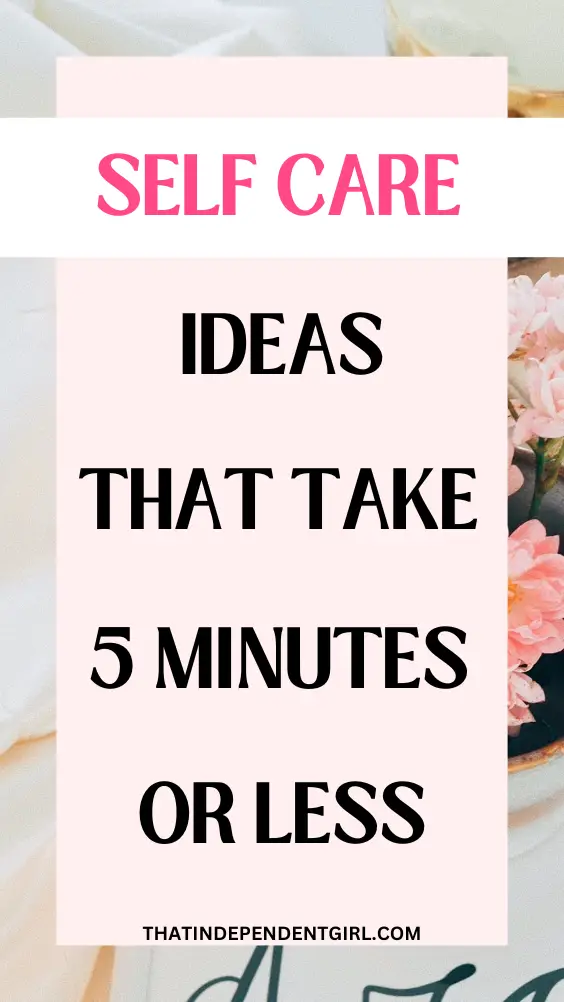 5-minute self-care activities for your soul
1) Give a hug
2) Call or text someone you love
3) Write a gratitude list for your life
4) Do something nice for someone
5) Write down your thoughts/dreams
6) Meditate
7) Drive to a quiet place and connect with the nature
8) Compliment yourself
9) Compliment a stranger on social media
10) Read your holy book
11) Write a letter you wish you could send to someone
12) Sit quietly
13) Spend some time with your pet
14) Spend time with someone who inspires you
15) Write down your affirmations
16) Write a letter to your lover/best friend
17) Gift your friend something
18) Light a candle
19) Call your best friends
20) Admire the stars
21) Engage in self-reflection
22) Watch the clouds and relax
23) Choose who you spend your time with
24) Help someone
25) Ask for help (as much as you love to help, you have to get help when you need it too)
26) Get positive feedback
27) Get quality time with a quality person
28) Look at the green and the blue (grass, sea, clouds)
29) Get involved with your emotions (name them without thinking too much)
30) Say no to something you don't want
31) Recite affirmations
32) Ask two or three friends what they love about you
33) Write a letter to people who have hurt you, then burn the letter and let it all go
34) Practice self-compassion
35) Find a quote that inspires you
36) Write or journal your thoughts
Conclusion
This is the list of 5-minute self-care activities for the mind, body, and soul that you can add to your routine for when you have 5 minutes to spare.
As you can see, there are so many things you can do in 5 minutes that can make you feel better.
It's important to reserve time for yourself and to practice self-care activities that help you always feel good.
If you don't know which self-care types there are, you can take a look at this post about the 6 types of self-care you should focus on and why you need them.
I hope this article has given you several ideas that you can start practicing.
With love,