We have all felt at least once in our life that we are not up to something, or that we are absolutely worthless compared to the person in front of us.
But is it really like that or is it just our little heads playing these tricks on us?
From personal experience, I tell you that I often felt this way, especially when things were going wrong in my life.
I was used to blaming myself and feeling inferior. But this is not the right approach, the truth is you have to change your mindset.
So do you get out of it? Can you stop comparing yourself to other people and give yourself the worth you need?
The answer is yes! Simple, you need to fall in love with yourself again.
It is basically the first thing to do if you want to live a happy and peaceful life, and it is the basis for everything that comes next.
But what does it mean to love us and how to practice love for ourselves?
Pin it for later!
What does love yourself mean
There are many ways to practice love for yourself.
But do you know what exactly it means?
First of all, it means accepting yourself for what you are, that is, with all your strengths and weaknesses. You are perfect and unique in the way you are.
If you do not accept yourself, it is impossible to be happy in life and the only thing you can do is to enhance yourself, day after day.
You must start practicing all those activities that bring you well-being and gratitude, on a physical, mental, and emotional level. Only in this way will you feel complete.
In this post, I will explain 12 ways you need to follow to fall in love with yourself again and be the best person you can be for yourself.
How to fall in love with yourself again
Below I have compiled a list that does not go in order of importance.
By practicing all these things, you will be able to love yourself more and discover that in reality, you are a special and unique person, of value and with many talents.
1) Practice gratitude and appreciate the small things
Practicing gratitude is one of the ways to fall in love with yourself again.

This is because by practicing gratitude, you realize that you are much luckier than many other people, and you have everything you need.
This includes a family, an education, a roof over your head, everyday food, clothes to cover yourself in, and the internet to read this post.
So you have a lot and you have to be happy about it.
2) Eliminate limiting deductions
How many times have you told yourself that you can't do something because you are probably not fit to do it?
Today I want you to stop believing all these fantasies your mind tells you, and put yourself out there.
You are capable of many things, and even if you fail the first time, have the courage to try again.
I firmly believe that if you work hard and really want something, then nothing and nobody can stop you. And you have to believe this too.
3) Recognize your worth and set boundaries
If you don't even know what you're worth, well, I'm sorry to tell you, no one will give you actual value or respect you.
Everything has to start with you. From today, start to give you more importance, because you are worth it!
If something doesn't suit you, feel free to say no and learn to set boundaries with others.
What does it mean?
You need to be able to tell people what you find is acceptable to you and what causes you discomfort.
And if they can't accept you for who you are and still don't respect you, you should simply cut off contact with them, because you won't need them in your life.
Learning to set boundaries is very important, as it helps you build healthy self-esteem and recognize your worth by teaching them how to treat you.
4) Put yourself first
Putting yourself first is not selfish.
You are a person too, and just as you take care of others, you have to take care of yourself.
If you don't want to do something, don't do it.
Do you crave some ice cream? Go outside and get it.
If a person causes you pain, have the courage to push them away even if they don't want to.
You come before others, and only if you are happy with yourself can you make others happy.
5) Listen to your body
Eat healthily and do an activity that relaxes you.
Choose an activity you love to practice.
If you love volleyball, join a team, if you would like to learn to swim, sign up for a swimming course.
If, on the other hand, you don't know what to do, you could start trying different activities and get out of your comfort zone.
Personally, I feel very good when I dance, so every day I dedicate some time to it.
As for food, don't eat a little but don't overdo it either. A healthy diet helps you feel good about yourself and always keeps you fit.
Indulge yourself without overdoing it and eat your favorite foods.
By doing so, you are able to improve physically and feel good about your body, which translates into more self-esteem.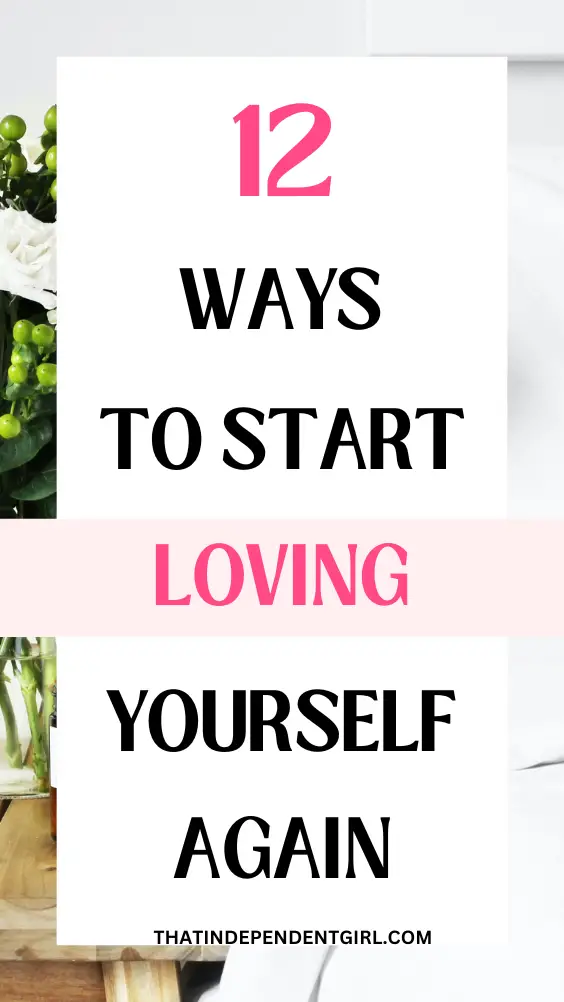 6) Have self-care dates with yourself
What's better than dating yourself?
This means taking time for yourself and practicing self-care.
These can be going to the spa, going to your favorite restaurant, or taking a trip to the country you've always dreamed of.
You need to know that you can feel great even without someone and that you already have what you need to be happy, which is yourself.
7) Pursue your passions and interests
Do you love to paint and play the piano? Or do you prefer to learn a new language, because you think it is important for your future?
Or better yet, have you decided to start a business that is able to make you live the life you've always dreamed of?
Whatever the reason, chase it! Take part in piano lessons, learn a new language and start building your business.
You will be able to create a preeminent life and the fun will not be lacking for sure!
Furthermore, you will build yourself as a better person and have the foundation for a bright future.
8) End toxic and negative relationships
If you're in contact with people who judge you, who only show up when they need to, who feel jealous and don't like to see you succeed, it's best to clean up this list.
You will have to choose your circle carefully and push away those who carry only negative energy.
Since friends and partners play an important part in your life, it's only fair to only keep people close to you who you really feel good about and who inspire you to always get the best out of you.
I noticed that eliminating contact with toxic people, made me a happier person, and after a while, I realized that I made the right choice for myself and my future.
9) Stop comparing yourself to other people
Another fundamental point to loving yourself is to stop comparing yourself to others.
You are you, not them. You are different and special in your way of being, and this is what makes you unique.
Also with this attitude, you tend to focus on imitating them to be like them, instead of elevating yourself and growing the potential within you.
You will use your energies to focus on a life that does not belong to you and this is to be avoided absolutely!
So stop comparing yourself to others, instead, focus on your life and make your dreams come true by working hard.
You will be so concentrating on yourself that you will no longer care about what other people are doing.
10) Do things that make you happy
What is life if you don't do things that make you happy?
By that, I mean just those little things that can brighten your day.
Visit the bookstore, listen to a podcast, put on a cute dress, buy some fresh flowers, plan a day at the SPA, or cook your favorite dish.
This will motivate you, make your life more enjoyable, increase your productivity, and make you want to experience completely new things.
11) Practice positive affirmations
Our mind is the most powerful thing we have and thought is one of the things that greatly affect our lives.
If we have bad thoughts about ourselves, it is obvious that we will never feel adequate and always inferior.
But if instead of thinking badly we turn those thoughts into something positive, then we will be able to have a better life.
Positive affirmations come to our aid. By practicing positive affirmations, you can feel good about yourself and reflect on the positive things you have.
When I'm in bed or just wake up, I read positive affirmations that help and motivate me.
12) Practice healthy habits
Practicing healthy habits is not always easy, especially if you are just starting out.
For this it is essential to start slowly and introduce a healthy habit at a time, such as drinking more water, quitting smoking, and starting to practice physical activity.
Check these 11 healthy habits to start now to live a happier life.
These habits not only help you physically but most of all mentally.
Conclusion
I hope this article on how to fall in love with yourself again was useful to you.
By following the points listed above, your outlook will begin to change.
You will begin to feel satisfied with yourself and everything you have, you will have a more transparent picture of your goals and most importantly – you will manage a life based on happiness and self-esteem.
You have to love yourself because you are worth it and you are special.
With love,