If you are not already, becoming a productive person takes work and patience but it is by no means impossible.
There are habits that make you productive and habits that are detrimental to your productivity.
The secret is to build good habits and eliminate bad ones that kill your productivity.
Many times we do not even realize that certain habits make us waste time and concentration, just for the fact that we are used to doing a certain thing and therefore we consider it normal.
Unfortunately, if we don't recognize these bad habits that make us unproductive, we run the risk of failing in our goals and don't get things done in time or getting things done badly or incompletely.
If you are wondering how to be more productive during the day or just more productive in general then you are in the right place.
In this post, we will go to see 16 bad habits that are killing your productivity that you can easily avoid or eliminate from your life.
If you want to be more productive, you can read these 11 tips that increase your productivity and beat procrastination.
Pin it for later!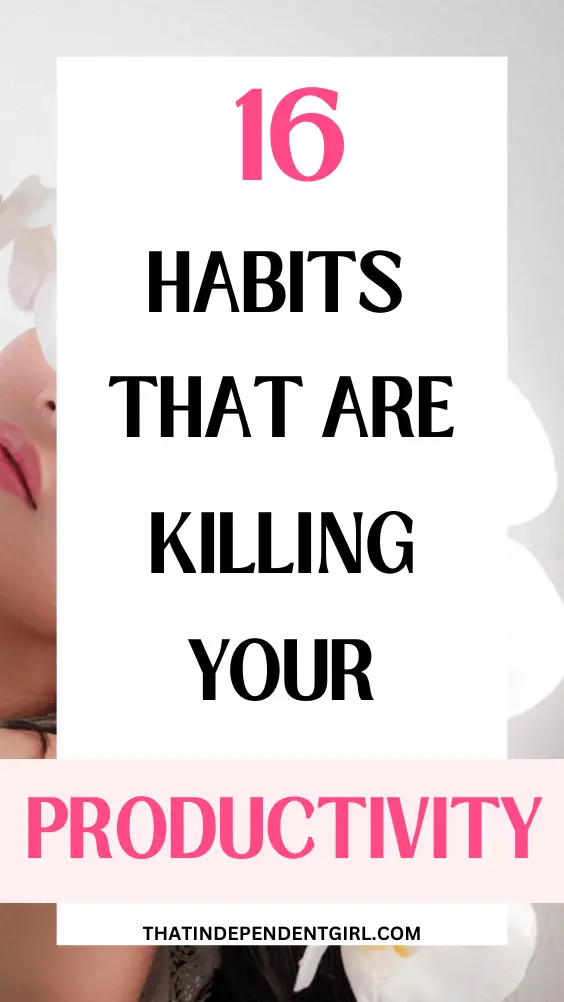 Bad habits to stop that are killing your productivity
Bad habits can be eliminated or replaced with good habits, but you have to proceed slowly.
In this list, you will find 16 bad habits that are killing your productivity.
I want you to take 3 habits at a time and work on them.
If you try to change quickly you end up not being able to stick to new habits, get discouraged and give up everything.
That being said, let's get started.
1) Trying to multitask
Being productive doesn't mean rushing to finish so many things in a short time to be able to get them off your list.
It means so much more.
Being productive means finishing your tasks but finishing them well.
Many think that multitasking is a good way to be productive. But it actually does more harm than good.
Our brains only focus on one thing at a time. So if you intend to write an essay and reply to an email and post something on Instagram, expect low-quality results.
My advice is to choose at least 3 tasks to perform in a period of time and focus only on those.
This means, for example, dedicating a specific time to writing your essay, and only after you have finished it, write your email.
This way you focus on one thing with a high-quality result.
Don't do things at the same time.
2) Keeping your phone near you and using social media all the time
How many times have you picked up the phone to check your friend's new post in the middle of a task and end up wasting hours on the phone that you could have used productively?
I say this from experience but having just your cell phone next to you can tempt your productivity.
During hours when you work or are busy, keep your mobile away from your desk or turn off notifications.
Decide how often you want to take a break and take advantage of these to check social media messages, emails, and notifications.
This way you will avoid wasting precious time and finish your work on time without distractions.
3) Not using a planner
One of the bad habits that are killing your productivity is not using a planner to get organized.
The planner or schedule helps you organize yourself in the long run.
The organization is essential if you want to be productive, so the use of the agenda should not be an option.
Write down all your appointments, commitments, the start and due dates of your assignments, and days off.
Planning your week helps you get an overview and you will know how to organize yourself to avoid confusion and burnout.
Also thanks to the overview, it will be of great help to organize the tasks during the week without planning too much and not forgetting the most important things.
There are diaries or even calendars to place on the table.
I personally prefer something that I can consult quickly, but you can choose the one you feel better with.
4) Allowing too many distractions
There can be many distractions throughout the day that can draw your attention to something less productive.
These can be emails, a ringing cell phone, a television that plays in the background, loud music, or the same computer you are working on.
You could use apps that block out distractions, but the best thing you could do is lock yourself up in a quiet place.
Take the necessary things you need, pens, notebooks, or your work material, and sit in a place away from devices or disturbing people.
Avoid distractions at all costs, because even if it doesn't seem like it, they make you waste a lot of time.
5) Not prioritizing
This was my main problem along with distractions.
Determining which activities are prioritized with tight deadlines, which activities will consume the most time, and which can be overshadowed, is the first step to being more productive.
When it comes to prioritizing activities, the correct determination of the most important and urgent activities will make a difference in time management.
Many activities are on the to-do list, and many shouldn't be there at all.
If we fail to prioritize things to do, we are compromising our productivity and effectiveness.
Plan what you need to do on a given day and prioritize these tasks.
I would start with the most important things that require more energy and finish with the easiest and least important ones.
6) Planning too many tasks in one day
Planning too many tasks isn't productive at all.
As I have already mentioned above, being productive does not mean doing a lot, but doing what is important and done well.
So when you decide what you have to do, try to choose the things that are strictly the most important and that have a close deadline.
Pick two or three tasks and that's it.
Pick a task that takes a long time to do and one or two easier.
This way you get things done right and avoid the burnout that is present if you force yourself to do a lot of things and plan too many tasks to be done in one day.
7) Not using time blocking
If you don't plan your day with time blocking, the risk of not knowing where you have spent all your time is impossible to avoid.
Time blocking is basically a method that allows you to block time segments and assign these segments to certain tasks.
This is not a simple to-do list where you only write the things you need to do.
By not using time-blocking you will miss many advantages such as:
prioritize tasks
be aware of the time to devote to one task before moving on to another.
increase productivity due to expiration
reduce stress for the things you have not accomplished e
avoid planning too many tasks
stop wasting time deciding what to do next
If you're starting out, you might want to try using time-blocking for a week.
Decide when you want to get to work and when to quit and try to stick to that plan.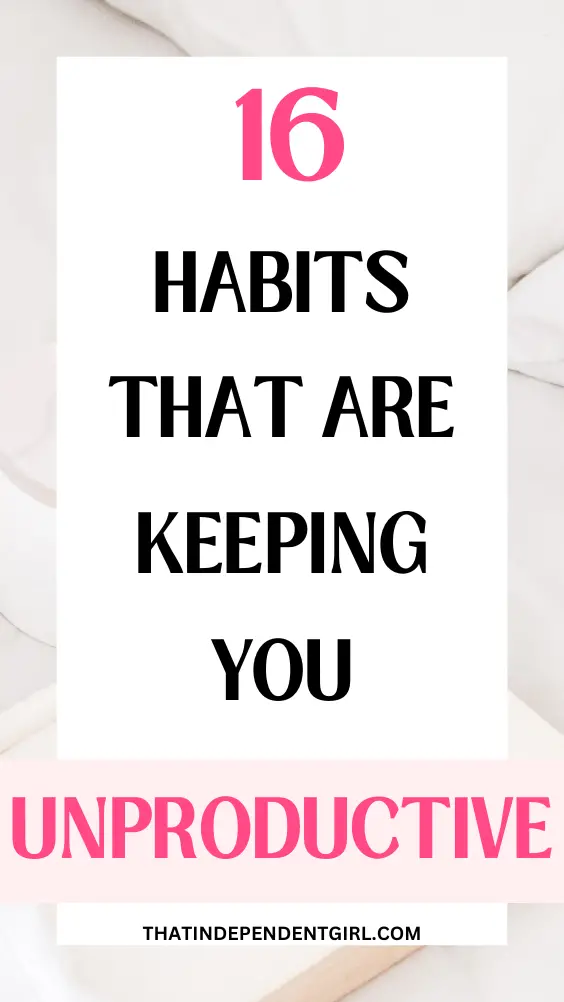 8) An unproductive bedtime routine
To have a productive day, you need to learn how to have an equally productive nighttime routine.
This means organizing all your stuff, writing a to-do list for the next day, and going to bed early.
If you want to know what to do at night to get ready for the morning, you can read these 10 things to do before bed for a productive morning.
9) Not eating nutritive food
If you don't eat healthily and don't get enough nutrients for your body to function properly, how do you think you can stay productive?
The brain needs essential nutrients to function smoothly.
With poor nutrition, you risk feeling tired all the time and not being able to concentrate well.
So, try to eat a healthy diet by including fruits and vegetables at least once a day, and don't forget to drink enough water.
10) Not making a to-do list
Many consider the to-do list to be a useless list, which causes anxiety, or do not know how to create it by doing random things which come to mind and maybe even forgetting some tasks.
The various problems that can be done by writing a to-do list are
lists too long or too short
lists too general or too specific
lists that are too ambitious or too simple.
The advice I give you is to write down exactly what you need to do and always choose a difficult task followed by a simpler one.
Above all, create a to-do list based on your schedule and realistic.
Writing a lot of things will only bring you frustration and anxiety.
11) Saying yes to everything
This is one of the most dangerous bad habits that are killing your productivity you can ever do.
By always saying yes to everything, you risk not having more time for yourself and your things.
For example, if you say yes to a task that others have to do, or yes to an appointment that doesn't help you much, you deprive yourself of the precious time that you could use instead for the important things you have to do.
Instead, learn to say no to events or parties, or tasks that don't concern you and dedicate yourself to what improves you.
12) Not taking enough breaks
There is this idea that the more you work continuously, the more productive you are and get things done rapidly.
If you think that working non-stop makes you more productive, then this is where you are wrong.
After a while, the brain begins to lose its concentration, and everything you do, either you do it badly or get tired easily.
You need to allow your body and mind to take breaks between tasks or even every 45 minutes of work.
By taking breaks, you recharge and you are able to continue with motivation and more energy.
You could take the opportunity to check your messages, go for a walk or just listen to some music.
13) Always aiming for perfection
One of the bad habits that are killing your productivity not to be forgotten is that of aiming for perfection.
Doing perfect things would be nice, but it's right that you know that perfection doesn't exist, and if you aim for it, you will never be able to enjoy life and you will waste your time chasing something you can never have.
Be productive by doing things with love and well.
14) Not tracking time
Not keeping track of time is the same as wasting time.
You should understand how you are spending your time and how much to give to each task you have to do.
If you don't track your time, you'll never know if you're productive because you can't figure out if you could have done more in that time or if you wasted hours on a task that could have been done in a couple of minutes.
So it's important that you keep track of time.
15) Not knowing when you are the most productive
This is a problem that many people have.
Each person is different and has different rhythms, so here you have to experiment.
When are you most productive? In which part of the day do you have more time? Are you a person who goes to sleep late and wakes up late or vice versa?
Try to figure out when you are most likely to focus and when you have more free time and take advantage of this to focus on your things.
For example, I concentrate on my work in the morning because I am more productive in the morning, while in the evening I prefer to relax and not deprive myself of sleep.
16) Not having a clean and bright workspace
The last of the bad habits that are killing your productivity, is not having a personal space for your work or having a messy space with little light.
For my productivity, it is essential to have a quiet, clean, and bright place.
Take the opportunity to buy what you need, get a good lamp, and a comfortable chair, and always have the material you need at your disposal.
Conclusion
So these are the bad habits that are killing your productivity! I would like to point out that eliminating or building a new habit takes time, patience, and persistence.
If you fail once, always be good to yourself and try again. I know it can be difficult, but it's not impossible.
According to a study, a habit is acquired after 66 days.
So give yourself some time and you will see that over time you will make progress.
With love,