If you want to improve your life, the starting point is you.
To improve your life, you have to go work on yourself to know what to do to improve it.
The easiest way to start this journey starts right from your habits.
What are your daily habits? What should you improve and what should you stop doing instead?
What are the daily habits that you should include in your daily life to live well and truly improve your life?
If you don't know, you've come to the right place!
In this post, we're going to see 20 daily habits that will improve your life, which you can start practicing today!
Pin it for later!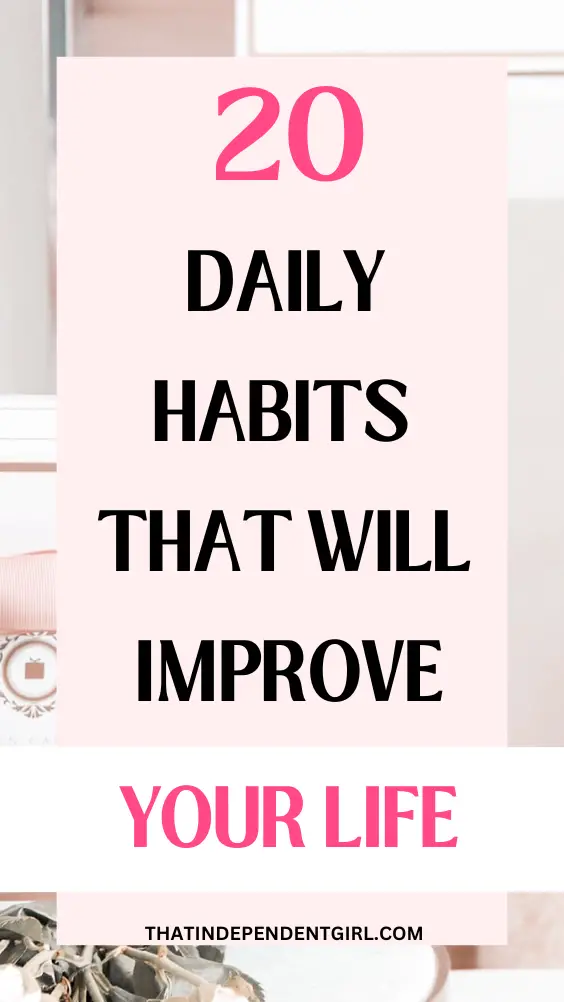 Daily habits that will improve your life you can start today
Here are the 20 daily habits that will improve your life to include in your days.
1) Declutter on a daily basis
One of the daily habits that will improve your life is to maintain order in the environment where you live.
This doesn't mean doing a big cleaning every day, which is very time-consuming, but tidying up where you can, putting an object back, changing the sheets when dirty, or mopping once a week.
Declutter on a daily basis allows you to always be organized and tidy with your things. In addition, a clean environment improves concentration and therefore you will be inclined to be more productive and to complete your tasks more easily.
2) Make time for yourself
This is certainly the most important daily habit that will change your life once practiced.
Make time for yourself.
I won't get tired of saying it, but if you want to live happily with yourself and with others, then you have to give yourself the same priority you give to the people you love.
If you're always busy with others, you can't focus on yourself, and slowly you'll realize that you'll always be nervous and tired.
Pause and take some time for yourself and dedicate yourself to the things you love.
3) Exercise in the morning
Practicing movement, especially if done early in the morning, has many benefits.
If you rest well, the morning is when you have the most energy and it's also a great way to wake up the body and recharge it for the day.
You can practice simple pilates, light jogging, follow a youtube video, or just have long walks in nature.
For example, being a dance lover, headphones, music and I dance for half an hour is enough for me.
4) Start journaling
Journaling is a good way to capture everything you think, tell about your day, understand what went well and what you would like to improve, write about episodes that will end up in your best memories, and much more.
If you want to know yourself, journaling is the perfect way to let your thoughts and emotions flow.
Since I was little I used to keep a secret diary, where I told of good but also bad things, and I must say that throwing your thoughts on a sheet helps a lot mentally.
5) Be kind and respectful to everyone
The world is full of bad and wicked people, ready to make fun of and judge anyone.
If you really want to live well, one of the daily habits that will improve your life is to Be always kind and respectful towards other people.
The act in itself will make your life better because being nice to others makes you a better person.
I believe that anyone who behaves well will be repaid with the same gratitude throughout their lives.
6) Read some pages of a book
Read read and read as much as you can.
I know it might seem like wasting time, but I assure you that reading opens up new horizons and new points of view.
Apart from that, reading clears the mind and relaxes the body.
If you're not used to reading books, don't worry. You can always start a little at a time.
Even reading just one page a day, reading helps develop language skills and expand your vocabulary.
By reading various texts, you inform yourself about the world, and at the same time, you encounter new words, not known or not often used, which become part of your daily vocabulary.
7) Start waking up early
One of the daily habits that will improve your life, that you might not have expected, is the habit of getting up early in the morning.
Getting up early in the morning also means having more time for yourself, doing what you love, and working on your goals.
This is probably one of the most difficult habits if you are a big sleeper like me, but not impossible.
If you want to know how to wake up early, you can read how to become a morning person in simple steps.
8) Develop a skincare routine
The skin is an important organ for our body and requires a lot of care to keep it healthy and glowing.
Each of us has a different skin type and needs different creams.
If you want to start taking care of your skin, the advice I would like to give is to understand with the help of a dermatologist what type of skin you have and to buy creams based on your skin type.
Then create a morning and evening routine for your skin to keep it clean and fresh.
Little things like this can improve your life because by taking care of yourself, you will also be more confident and therefore happy with yourself.
9) Drink lots of water
If you really want to start practicing daily habits that will improve your life, then I have to say mentioning water should be number 1.
Water is the source of life and health, and if you want to live well, then get into the habit of drinking at least 2 liters of water a day.
If you forget to drink water, you can try setting alerts on your phone to remind you to drink.
It's fun, and once it comes naturally to drinking more, you can take it off.
10) Prioritise self-care
Self-care plays an important role in our lives and is also an indicator that tells us if we are really taking care of ourselves.
Practicing self-care is a must to include in your daily routine. It's very important for many things, it helps you relax, you focus on your hobbies, it's an activity you do for yourself and it helps you disconnect from the chaos of everyday life.
If you want some ideas on how to practice self-care, you can check out these 29 self-care Sunday ideas or these 5-minute quick self-care activities.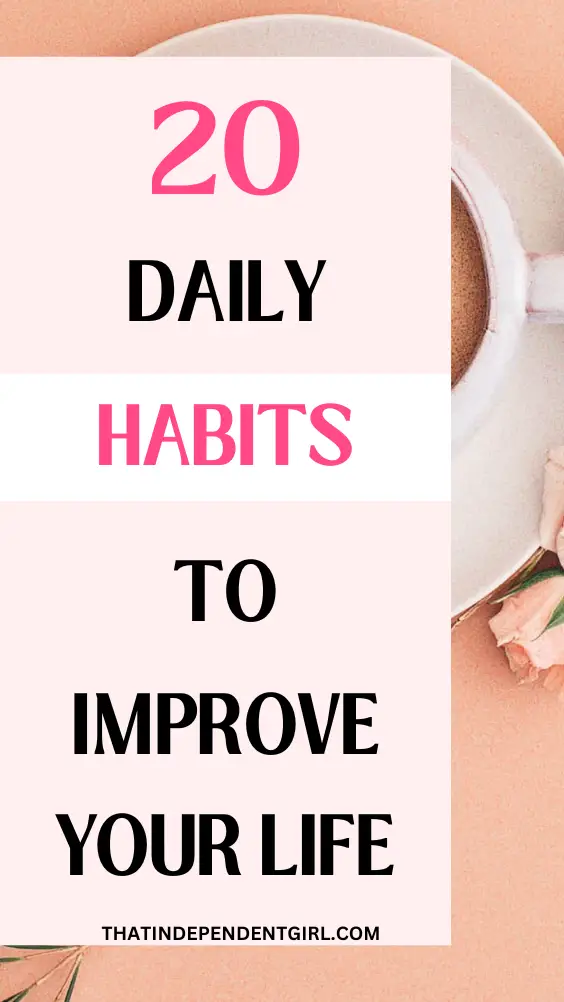 11) Pray or meditate in the morning
There are those who pray or meditate in the early morning and those who do it before going to sleep.
I believe that doing it in the morning gives you the strength to face your day and that praying, or meditating for those who don't believe, brings peace and light-heartedness throughout the day.
You could set aside some time in the morning for prayer and meditation and when finished, go about your day.
12) Only buy what you need
When we talk about daily habits that improve your life, it is impossible not to mention the financial part.
If you really want to improve it, then you have to start paying attention to how you spend your money.
To do this, you can start by not buying things you don't need and making a shopping list before going to the supermarket.
Tracking your finances is definitely a habit that will improve your life for the better, trust me on this!
13) Do your important task before noon
One of the best daily habits you can start practicing to improve your life is to start prioritizing things to do.
If you want to maximize your productivity and quality of work, start completing the most important tasks of the day before noon.
The sooner you finish the difficult and important tasks, the better the course of your day will be.
When you wake up, always consult your to-do list, do the important tasks and leave the less important ones to the end.
14) Set aside one hour and learn something new
Dedicating yourself to something new is great, but how many times have you put it off or not found the time to learn it?
This problem is easily solved using the time-blocking method. Decide what time of your day you want to dedicate to studying a new topic and set that time to do just that.
15) Don't use the phone early in the morning
This is something that I highly recommend to everyone because it is truly capable of transforming our day!
Don't look at your phone as soon as you wake up in the morning.
Indeed, before going to sleep, turn off the wifi, and place the phone away from the bed.
I assure you that you start your day more peacefully, being able to focus only on yourself, instead of wasting time watching what others are doing or looking at things that get you down with the mood.
Do something relaxing and productive instead.
16) Practice daily walks
Did you know that walking improves health and makes you fit?
Taking long walks is one of my favorite pastimes, especially if I find myself in a quiet place surrounded by nature.
Get into the habit of taking at least 10,000 steps a day, and if it seems tiring, put headphones with music in your ears and enjoy your time.
17) Start meal planning
Meal planning is practically one of the habits that I have to start doing too because I believe it really makes a difference for your pockets and for your time.
Meal planning is a valid aid for those who would like to save both time and money, so why not start practicing it?
18) Eat a portion of vegetables every day
How much fruit and vegetables do you eat a day? And how many cookies?
Therefore, another of the daily habits that will improve your life to start doing, is to eat at least one portion of vegetables and fruit every day.
They are good and healthy, and they are also very good for the skin, making you more beautiful.
Choose the fruits and vegetables you like best, and start incorporating them into main meals or as snacks.
19) Practice gratitude
Do you know that you have everything you need?
Know that you are blessed and that all you have is a blessing you must realize.
Practicing gratitude means realizing that you have everything and that you are fine, not being jealous of other people's possessions, but being thankful for having what you have.
This is definitely one of the daily habits that many of us should start practicing but take for granted.
So, make it part of your routine, and you will see the change in yourself.
20) Do something nice for someone
Have you ever thought that an act of kindness and love towards someone can improve your life?
It may seem strange, but believe me that what you do for others ultimately comes back to you.
And not in the sense that if you help, you will be helped. That too, but what I mean is that by doing something nice for someone and seeing them happy, that itself makes you a better person.
The world needs kind and nice people, so be a part of them!
Conclusion
These are the 20 daily habits that will improve your life that you should start practicing every day.
Of course, you don't have to force yourself to practice them all at once, in fact, start with one habit at a time.
I hope the post was helpful to you!
With love,