Spending money is very easy, but what about saving?
It is said that putting money aside by doing your usual job, is a difficult thing to do, not to mention impossible.
But this is where many people get it wrong.
Saving money requires only will and organization.
There are women who have a lot of money and keep growing their bank accounts.
Fortunately, it is not because life has favored them or because they have rich parents.
The secret lies in the mindset and habits they adopt in managing their money and life. Being independent and responsible is the characteristic that we all would like to have.
If you also want to know how they can always have money, keep reading.
Below I will list 16 habits of women who are never broke and manage to control their finances living a comfortable life.
Pin it for later!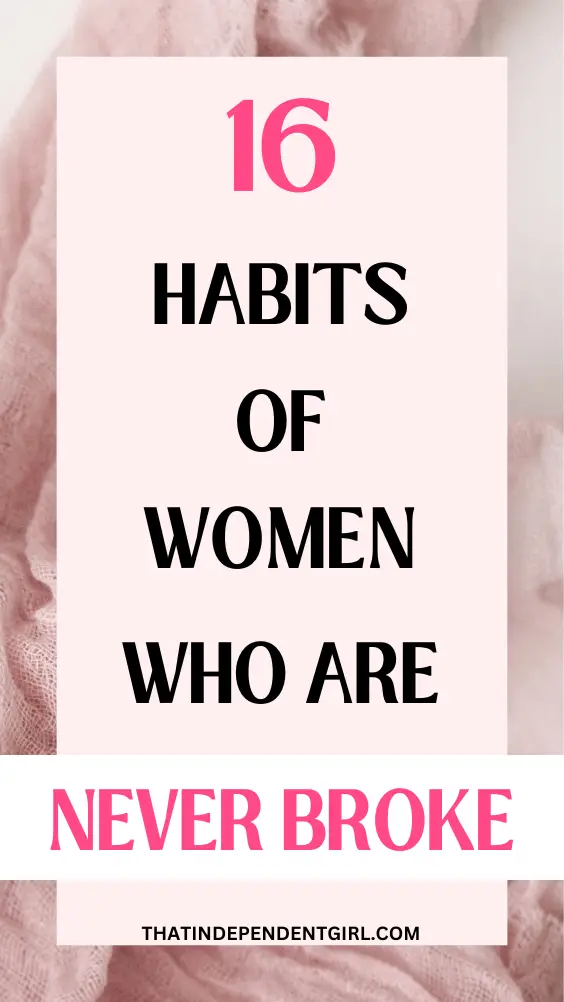 Habits of women who are never broke
By embracing very simple but effective habits, it is possible to save money and live well.

Here are the habits that women who are never broke adopt.
1) They set and meet financial goals
Deciding what to do with their funds is crucial.
Each month before they receive or spend the money, they write down their goals for the month.
Goals can be long-term, such as saving for their retirement, or short-term, such as saving for a dream trip.
Whatever the case may be, they know what they really want and go out of their way to make it happen.
2) They know how to prioritize
Giving the right priority to things or people is equally important.
For them, it is a habit to make a list of things to do.
The night before or early in the morning, they write a realistic to-do list and prioritize them.
Based on their assigned priorities, they complete their tasks.
They know how to organize and know how to prioritize the most important things without wasting time on useless tasks.
3) They say no to emotional spending
Have you ever done shopping for things you don't even need, just because you were sad or happy?
Well, women who are never broke don't.
They know how to control themselves and prefer to do something else, like listening to music or playing sports.
At best, they indulge in something to cheer them up, like a dessert, instead of something they don't really need.
In this way, they are able to release their feelings and do not return home with empty pockets.
4) They live below their means
The answer to how to get more money is obvious.
People who always have money, it's because they live below their mean.
But what does that mean?
That means that they spend less than they earn and use their money responsibly.
In this way, they can save money for emergencies, such as job loss or illness, or for the future, such as buying a house or retirement.
However, they acquire financial freedom unlike those who spend all their money.
5) They know the difference between wants and needs
Economically independent women know how to distinguish the difference between wants and needs.
Before buying a thing, they ask themselves questions like: do I really need this? Is there anything less expensive I can replace it with?
If you also have this problem, I highly recommend that you write yourself a list and wait a while. Most of the time, this urge disappears.
6) They create a budget
Creating a budget is essential if you want to keep track of money, and it is one of the habits that women who are never broke practice.
Just take a piece of paper and write down all your expenses and income.
Then it is important to set a goal and create a plan.
Women who are never broke don't spend more than they earn and they organize themselves to pay bills or other expenses by setting realistic goals.
One thing my family and I do is to organize ourselves with envelopes. In the middle of the month, we make a list of things to pay for the next month, and for each bill or rent, we take envelopes and divide the money.
In this way, we organize everything and avoid confusion and delays.
7) They have multiple streams of income
Having more income streams means having more money in your pockets.
Of course, by building more income streams they can earn more money and save it for the future or spend it on something they love, like traveling or opening other businesses.
If you would like to have more financial freedom, you could think about opening a business, like a blog, growing it, and then opening a second stream, like Etsy.
I firmly believe that the more income streams you have, the more financial security you have and the less likely you are to fail.
8) They track expenses and save up
Saving where you can, can make a difference at the end of the month.
Women who have a lot of money cut useless expenses, which means, those things they don't need.
Do you have a gym membership but never go there? Eliminate it.
Do you need cream but buy it branded because it looks better? Buy a cheap one that has the same ingredients. It won't harm your skin.
Saving where you can, bring so many benefits to your pockets without you noticing.
You can start with these 23 things to stop buying to save money each month.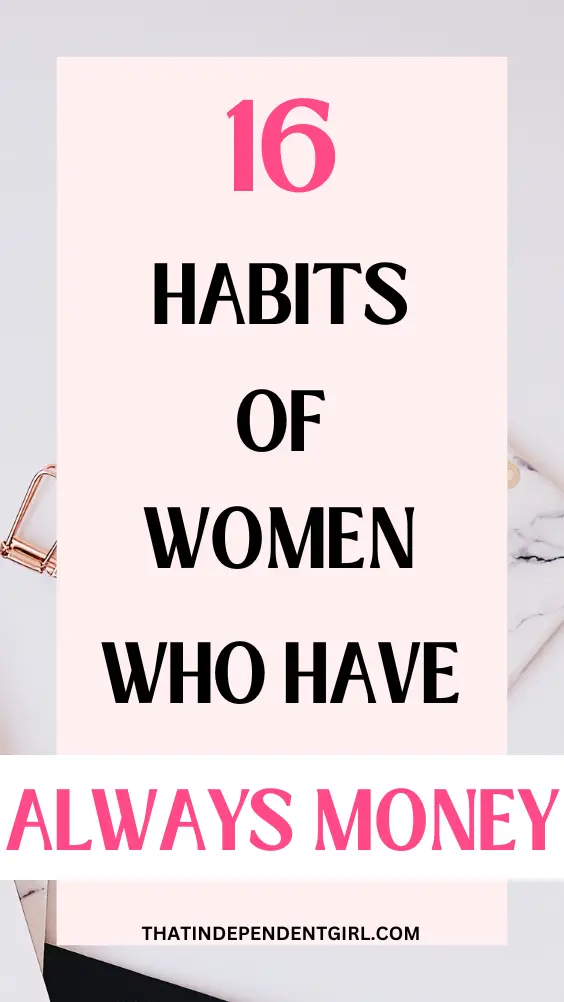 9) They develop a positive money mindset
One of the habits women who are never broke start to develop is a positive money mindset.
They don't give up on money problems and know that with hard work, they manage to be successful people.
It is also true that money is not everything and that one should not compare the wealth of others with their own.
Your money can be used in a variety of ways, such as helping someone, or for long-term goals, such as saving for financial freedom.
10) They have a saving account
How to divide the money to spend every day and those for projects and the future?
Obviously by having a saving account.
Having a saving account brings many benefits, such as the interests from which you can derive, and therefore more money, and for putting the money aside for any emergencies and providing financial security.
So if you don't have one, open it for your savings. It may seem useless to you now, but in the future you will be grateful that you did, knowing that you can count on more money.
11) They stop procrastinating
One of the things women who are never broke do is to use their time wisely.
They know that time is a precious commodity and it is the only thing that is not given back, unlike money.
In order not to procrastinate and get their tasks done, they follow a realistic plan and make good use of time to stay productive and beat procrastination.
It is very important for them to make good use of their time, and instead of wasting it doing nothing, they use it for something productive.
12) They never stop learning
Unlike what people think, not stopping learning is not just for kids.
Adults also continue to learn new things and absolutely must not stop doing it.
Women who have a lot of money manage to maintain a high income because they are ready to learn from their mistakes and get financially educated.
Therefore it is important not to stop learning and try new things. It helps you to be a more mature and experienced person and you can a better you in the future.
13) They invest and diversify
Women who are never broke, know how to invest their money. They not only invest, but they diversify these investments.
These can be fixed investments, cash in savings accounts, investment properties, and much more.
Whatever they do, they have the certainty to have higher returns, and higher growth potential and investments are best for long-term goals, such as retirement.
14) They reward and motivate themselves
Have you ever thought about how women who have a lot of money don't get down easily?
This is because they have the habit of rewarding themselves every time they reach a goal and they motivate themselves when they encounter an obstacle.
It is one of the differences between an independent woman who knows how to control her money and one who gives in to the first problem.
If you reach a goal, it is essential that you reward yourself. Not everyone succeeds in completing what they have established.
And if you fail on the first try, don't give up and learn to find the motivation in yourself.
15) They plan and organize life
Women who are never broke organize and create short and long-term plans for life.
When it is true that you must live only in the present, it is also true that having a plan for your future helps in organizing and making appropriate decisions at the moment.
Having an idea of ​​what you want to achieve in the future is important, and this doesn't mean not living in the present.
If you haven't started doing this, I suggest that you find out what you would like to be in life and make a plan to achieve your goals.
Live the present but also think about the future.
16) They minimize credit card debt
Having a credit card with the money you can borrow seems like a fortune, but it isn't.
If there is one thing women who are not broke do to avoid debt, it is not to create any debt at all.
But if by any chance you already have debt, paying the one with the highest interest first is the most sensible thing to do.
Conclusion
These are the 16 habits of women who are never broke build to maintain their classic lifestyle and never go bankrupt.
If you too want to start developing habits that allow you to have more money, then you can start right here.
If you find the article useful, you can share it with your friends.
With much love,