Every day of our lives, we are crammed with so many commitments that we forget to take care of the most important things or we procrastinate on our tasks, and life can turn into a messy and anxious place.
Life happens to get overwhelming, and that's okay. Thankfully there are a few things we can do to fix this, and that's where lists come into play.
In this post, I will share 23 lists to make to organize your whole life. All you need is a planner and a pen and some time to dedicate to get your life in order.
Pin it for later!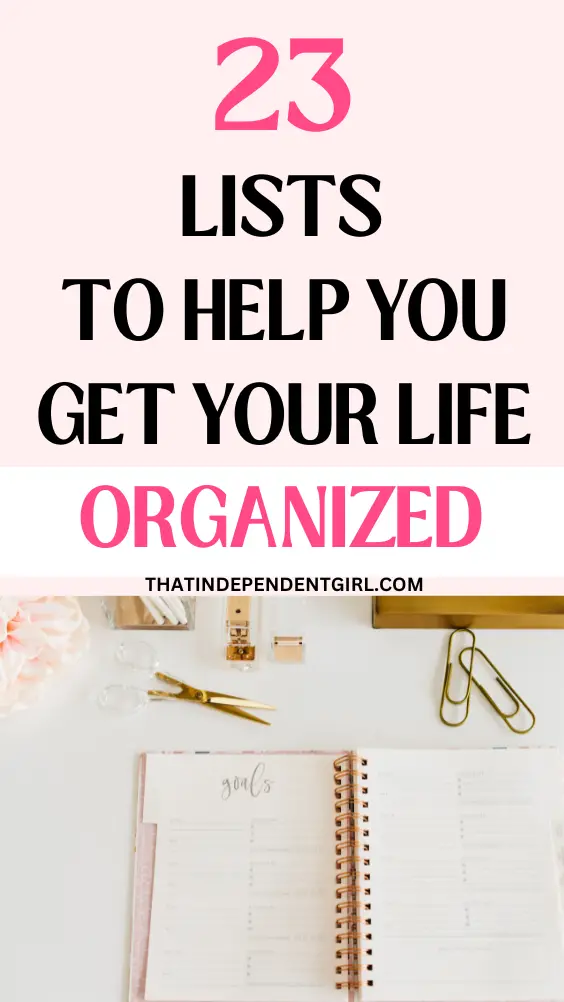 Why you should make lists to organize your whole life
Making lists is fun, but other than that, lists perform important tasks that help us stay organized.
Before we look at which lists to make to organize your entire life, let's find out why you should make them in the first place.
1) They help you prioritize
One of the benefits of making lists is to help you prioritize things.
By making a list, you will be able to write down all your commitments for the day, week, and month and be able to give each of them a priority.
If you know that you have a task to turn in at the end of the day and you need to answer the emails, you know that you need to focus on the task first, and at the end of the day, you can focus on the emails.
By prioritizing your commitments, you can focus on what's important and avoid forgetting things you need to get done.
2) They help you plan your life better
Making lists can really help you plan your life in the best way.
The lists are used to have an entire view of the things to accomplish, your desires, your goals, and your habits.
This definitely allows you to plan what you would like to do in the future, to write down what didn't go well in the past in order to improve, and to know which direction to take to achieve your dream life.
For example, if you want to become a morning person, you can start making a list of your bad habits to get rid of and make another list for a new routine to follow.
Or if you want to organize your home and don't know where to start, you can make a cleaning list for each room and get rid of the things you don't need anymore.
3) They make you feel less overwhelmed
Have you ever felt caught up in everyday life and not knowing what to do next, feeling the need to organize your life and your commitments, because you feel overwhelmed and unable to breathe?
Don't worry, because one of the powers of making lists is precisely to help you get organized and not make you feel overwhelmed.
Making lists helps you organize your life, from busy schedules to urgent to-dos to self-improvement.
In short, there are many things that you can keep track of and help you maintain an organized life.
4) They reduce anxiety
Anxiety is something that many people experience, especially those who are always stressed or unable to have control over their lives and what is happening around them.
But there are some things that can help us reduce it, and one of them is just to sit down and organize everything on a sheet.
This way, you really know what you want and what you're working on, you don't forget about important things, and you keep track of your routine and your thoughts, which is very helpful to reduce anxiety and your stress level.
5) They help you stay focused
I'm honest, since I make my to-do list or any other list, I'm more inclined to work on what I've set for myself and also do it with more focus and motivation.
The reason is simple: who doesn't hate getting to the end of the day or the route, and knowing that you failed to do what you wanted to do?
A bit annoying, don't you think?
For this reason, making lists allows you to visualize the things you want to complete and increases your focus, because you are focused on finishing that particular task.
And if you want to get to your goals, what you need is simply focus!
6) They help you visualize what you need
Do you know what the other benefit of making lists is? It is to help you visualize what you need and visualize how you would like your life to be in the future.
Maybe you're a little confused or you've never given it a thought, but visualizing what you need and what you want out of life is important if you want to reach your goals.
For this, you can take some time for yourself, reflect on your goals and visualize your life. Start compiling a list of your wishes and goals and work on them.
For example, I personally would like to transform my blog into something that allows me to earn, and for this, I need a precise plan.
Similarly, if you too want to reach a goal, make a list of your steps to get closer to it.
7) They ensure you don't miss anything
I don't know about you, but it has happened to me a lot of times, to forget about my commitments and my tasks, because unfortunately, I can't always remember what I need to do.
But making lists has helped me a lot to don't miss anything and to remind me in time of the things I need to do.
So start making lists and you'll see how much your life will become easier.
List to make to organize your whole life
Here are 23 lists to make to organize your whole life that helps you organize yourself and lead a less stressful and more organized life.
1) Daily to-do list
The daily to-do list is a perfect way to keep track of your daily commitments, and things to do by the end of the day.
It is also a good way to ensure that you are working day after day on your goals and maximize your productivity.
2) Weekly to-do list
The weekly to-do lists are very useful for having an overview of what there is to do and allow you to clearly organize your week.
It helps you to prioritize the most important tasks and divide the work according to your commitments and to better plan your free time.
3) List of important events
If you have a job, a family, friends, and hobbies, surely you will also be full of special events.
But it happens that sometimes we can forget and it's not really nice. This is why having a list of important events is essential and convenient so that you don't miss anything.
4) List of expenses and income
To keep track of your expenses, this list is for you.
Organizing your life also means organizing the financial part, which is one of the most important if you want to know how to save money and how you are using your money instead.
Furthermore, there will be no bad surprises at the end of the month, such as taxes or bills to pay
5) Distractions list
If like me, you are easily distracted by things around you or tend to lose focus easily, then a fun way to get rid of your distractions is to compile a distraction list. This way you know exactly what is distracting you and to steer away from these sources.
For example, if you know your cell phone is distracting you, next time leave it in another room before diving into work.
6) List of dreams and goals
This is definitely one of my favorite to-do lists.
The list of dreams and goals is not only fun to do, but it is also a source of motivation and a reminder to not give up whenever you feel like it.
It also helps you build self-discipline to achieve your goals.
You can write goals for the month, year, and 5 years from now.
7) List of appointments and meetings
Do you have so many appointments that you are sometimes afraid of forgetting some or do you constantly lose your appointment sheets?
You can create a list of appointments only, so as to have everything in one place and avoid accumulating a thousand slips of paper.
8) Password and accounts list
For those who have many accounts and passwords, over time you could run the risk of forgetting and not being able to log in.
You can make a list of passwords and accounts and keep it near your computer or keep them on your smartphone.
9) Gratitude list
Some of us take so many things for granted that we forget that we are actually very lucky.
Maybe all those beautiful things seem natural to you, but the truth is that we should be grateful for all that we have.
And to remind us of all this, one idea would be to make a list of the things we are grateful for.
10) List of pending things to do
We may leave a job halfway and come back to it after a while, but the problem is that most of the time we forget it or postpone it.
Make a list of pending things to do and check them out
from time to time, to make sure you don't forget about it and get things done.
11) Routine list
This list applies to both those who tend to change routines from time to time and those who are starting to introduce a new routine into their day.
A routine list is an aid to really start a routine and avoid wasting time on useless things and is very useful in forming new habits.
12) Bucket list for the year
Do you already have an idea of ​​new places to visit this year or activities you would like to do together with your loved ones?
A bucket list for the year is what you need to write down your wishes for this year and remind you that you still have so much to experience!
13) Meal planning list
Have you heard of meal planning yet?
Basically, it's an advance planning of meals that saves you time in deciding what to cook.
You can plan what you're going to eat during the week and even save yourself money.
14) List of monthly things to buy
Feel like shopping?
So grab a pen and paper and start drawing up your list of things you need to buy just for this month.
This list is best done at the end of the month or at the beginning, but it's a valid help to know what you really need, what's missing and to save money, avoiding compulsive spending.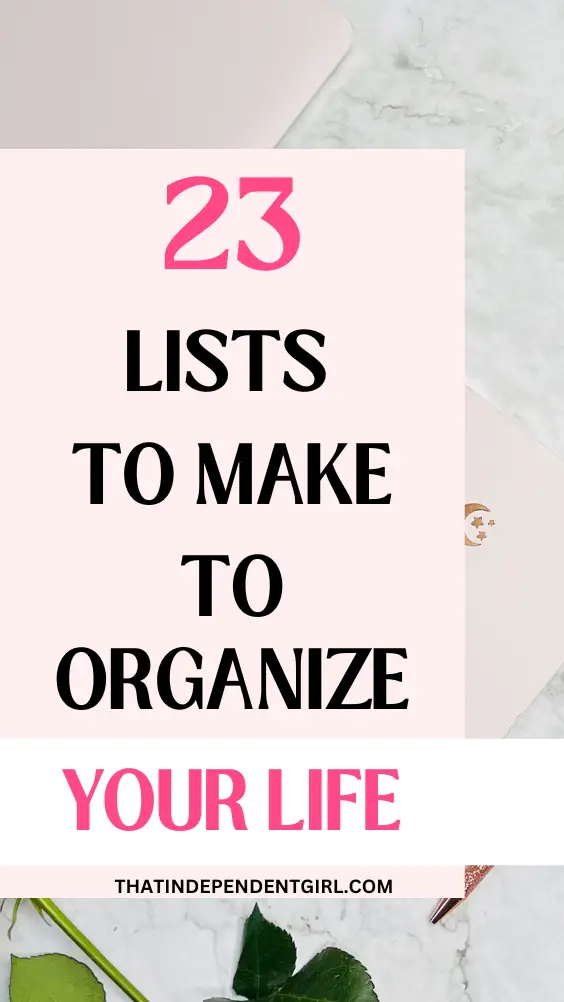 15) List of books to read
If you are a reading lover or want to start this wonderful habit, then all you have to do is draw up a list of books to read.
You can break it down by month or simply by books to read in 1 year.
I assure you it's fun, and reading is one of the best ways to broaden your horizons.
16) List of things to improve upon
I never get tired of saying it and it's definitely not the first time you've heard it but have you ever thought about what could be the things you could improve upon?
In life you never stop improving, that's why I tell you to get better at everything you want to improve and don't be shy to want to know more.
Well, if the answer is yes, then this is the right time to make a list of things to improve upon and work on one thing at a time
17) List of things to clean and organize
Having a list of things to clean and organize is a helpful hand if you don't know where to start or can't get rid of the accumulated dust and clutter.
A very simple thing to do is to draw up a list for each room with things to clean and tidy, such as the desk, the wardrobe, washing the curtains, or mopping.
A tidy home also contributes to peace of mind, don't shy away from organizing.
18) Monthly tasks list
Just like the daily to-do list and the weekly to-do list, a monthly task list gives you the advantage of knowing what to focus on and consequently planning your time, so you get things done faster.
19) Affirmation list
I like to write down phrases that motivate me and push me to be the best version of myself, but also phrases that make us think and remind us of the value we have for ourselves.
Whenever you come across these phrases, write them on a piece of paper, so you have your favorite affirmations at hand, to re-read in the good times but also in the low moments of your day.
20) List of new skills you want to learn
Have you already made the list of things you want to improve on? Well, how about another one about the things you want to learn?
It doesn't matter how old you are, if you want to learn something, do it! There is only one life, and we must live it by doing things that make us feel good and experimenting with new things.
21) Packing list
A packing list is usually made when you are leaving or planning a trip. It's really helpful, for those who don't know what to bring and to make sure they don't forget something, maybe super important for the trip.
So why not include it among the lists to make to organize your whole life?
22) List of inspirations and ideas
This needs no further explanation because we all come up with some great ideas from time to time or we just find something that inspires us.
A list of our ideas and inspirations can be a source of motivation, boost happiness, and increase productivity in everyday life and creativity will never fail.
23) Journaling prompts list
Have you ever tried journaling or would you like to start this healthy habit, but writing freely isn't really for you?
No problem, because there are journaling prompts for this that you can use too.
You can find them on the internet or in the library, and you can make a list of journal prompts that help you the most.
Conclusion
I hope these 23 lists to make to organize your whole life can bring more clarity, order, and productivity to your life.
Making lists has a lot of advantages, and they are especially used by people with many commitments and responsibilities and above all goals to achieve.
I know you are one of them!
Start making lists and you can reap the benefits of organized life.
With love,