Every time a new year begins, we set ourselves new goals and new things to do during that year. But we always forget that life is unpredictable, and situations can appear that stop us for a while from our projects.
I also have a habit of writing all my goals and the things I would like to achieve in that year, and there has always been a problem.
At the end of the year, I always notice that I could not reach all that I had set for myself and I feel kind of depressed.
Writing New Year resolutions is a nice thing and many of us do, but the problem is that with a year ahead of us, we risk writing big resolutions that take a lot of work.
And this is the same problem I've heard from my friends and family.
At the beginning of the year, we are all super motivated and we start with our plan. But after a few months, here we begin to lose motivation or something happens during the course of life and we stop to work on our goals.
That can also lead to disorganization in every field of our life.
So what can you do to avoid all that?
The secret is to proceed slowly, month after month.
In today's post, I'm going to explain the 13 things to do at the start of a new month to get organized and with which you can complete your goals and bring more organization to your life.
Pin it for later!
Things to do at the start of a new month to get organized
Before listing the things to do at the start of a new month, I'll explain why it's important to have a list of things to do every month if you want to succeed in your intentions and always be organized in everything.
Having a monthly plan helps you to be more organized as you have an overview of the month and you can track everything that you need to do in that month.
A one-month plan, being made up of 30 days, helps you to create goals that are feasible for yourself and therefore that you tend to reach, compared to the goals you make for a year, which seem to be great, as we have "a lot of time".
Having monthly tasks allows you to break your big things into smaller ones, which are easier to do and will allow you to be a more organized person.
You don't lose motivation and the risk of procrastination decreases dramatically, as you are more focused on the small things of the month instead of the big ones of the year.
Monthly plans help you build good habits at a time and keep track of all aspects of your life without burning out.
Now let's see the 13 things to do at the start of a new month to get organized.
1) Reflect on the past month
Last month has already passed but this does not mean that you have to forget about it.
In fact, if you want to improve yourself as a person day after day, it is important to take note of all the things you have done in that month.
This includes the pending things, and the goals you have set for yourself but also the financial, organizational, and relational aspects are part of these things.
It is useless to start a new month without reflecting on the things that have worked and on those that have not worked and why.
If you see what didn't work for you and adjust your monthly plan, you can improve the following months and achieve what you couldn't achieve before.
2) Clean and declutter
Cleaning and tidying up your stuff is essential if you want to be super organized.
Every beginning of the month, try to carve out some time to organize your room, throw away the documents and paperwork you no longer need, and order the desk where you study or work.
An orderly environment stimulates your productivity and makes you a more organized person, that can work on more and achieve more.
It also helps you not to forget the important things but it is also a way to simplify your life and get rid of things that add confusion to it.
3) Write down a goal for the month
Do you remember when I told you that by writing the goals at the beginning of the year, it would have been difficult to achieve them?
To avoid this, I want you to think only of a goal that you would like to work on and write it down.
Assigning one goal per month, actually helps you achieve it and you have more time to focus on one thing at a time.
For example, if you decide to pass the theory exam, write it down on a piece of paper and work on it in that month.
To make things easier for you, you can break that goal into small steps that lead to its fulfillment.
From experience, I tell you that this approach works wonderfully and you manage to accomplish what you set out to do.
4) Start a 30-day challenge
One of the favorite things that I love to do at the beginning of the month, is to start a challenge that goes from the beginning to the end of the month.
This can be a challenge of any kind, but it must bring benefits to your life.
It can therefore be a sport or nutrition challenge, or even a detox challenge from social media.
Find something that you like and that motivates you to start it, and start it!
5) Check and plan your finances
One of the things to do at the start of a new month is to monitor and plan your finances.
To avoid problems and confusion, you could keep track of what you spend and what you earn on a table.
Above all, if you would like to save, you should be careful about what you spend and ask yourself if you really need those things.
Starting saving for emergencies and for your future should go hand in hand and you should definitely start as soon as possible.
6) Choose a book to read
If you want to be an open-minded person and continue to improve yourself, then reading a book should definitely not be missing.
Books have the power to improve your mind and way of thinking, open you to new perspectives and see the world differently.
Personally, I love to read and it is also a relaxing activity, especially if accompanied by a cup of tea or coffee.
So choose your favorite genre and read at least one book a month.
7) Invest in yourself
It is never too late to improve yourself.
This doesn't just apply to the start of the month, but to every day of your life.
Investing in yourself and learning new things can only do you good and make you grow as a person.
You could take advantage of the start of the month and use it to decide in which field you would like to improve, and take action.
This can be starting a language course, investing in a course that can help you take your business to the next level, or learning how to cook.
Whatever it is, investing in yourself is the best thing you can do for your life.
8) Make a to-do list of the things to get done that month
One of the main things to do at the beginning of a month is to make a to-do list of the things you should accomplish in that particular month.
Whether it is geography research or the publication of articles, writing your to-do list and writing down your deadlines on the calendar can give you an overview of things to start and finish.
For example, I write blog posts on the calendar to publish on the blog, and in this way, I know how to organize myself when I have busy days.
9) Mark appointments and plans on your calendar
What could you do to avoid forgetfulness and stick to your commitments?
Another essential thing not to forget to do is to write down all your appointments and commitments you have.
Doctor appointments, at work, online meetings, or family gatherings are things we can forget if we have our heads in the clouds or are always busy.
Mobile notifications are useful, but having a calendar with the month's commitments is even better.
10) Schedule me-time
Taking care of yourself is one of the key things if you want to avoid burnout and preserve your integrity.
How can you think of living a happy life if you don't dedicate yourself to yourself?
Starting to practice a self-care routine that can benefit you is of vital importance.
Pamper yourself, pray, take care of your skin, get a manicure, spend time alone to reflect, read a book, or practice meditation.
As a start, you can read the 11 healthy habits to start now to live a happier life.
Use your time wisely and spend it on the person you need most – yourself.
11) Schedule bills to pay
As well as checking your money situation, you should also know the deadlines of your bills and schedule them.
Nobody wants to be notified of late bill payments, so write down your deadlines and pay before the deadline.
12) Digital organization
Photos on your phone, apps you no longer use, or emails you receive but never open can add to the confusion.
Doing a digital cleaning every now and then makes your life easier and you can focus on the most important things.
For example, if you notice that you no longer read a certain person's email, unsubscribe and keep your inbox clean.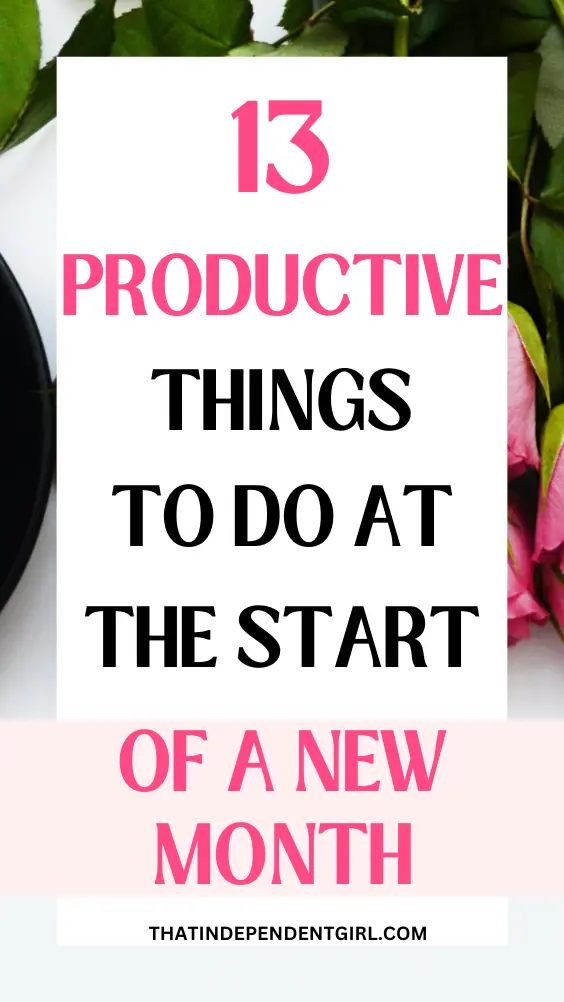 13) Get a monthly calendar to keep in your workspace
Last but not least, how do you write down all the things to do at the start of a new month to get organized if you don't even have a calendar?
You can choose the calendar according to your taste, but I prefer to print the month and stick it on the wall near my desk.
In this way, I have control of everything and the calendar is always within sight.
Conclusion
These are in summary the 13 things to do at the start of a new month to get organized. If you want more organization and to avoid burnout, you can start following these tips of things to do at the start of a new month to get organized.
I hope this article is useful to you and hope that you can start getting organized.
With love