Have you ever dreamed of living a happy life and being truly happy?

Maybe you don't like where you are in your life right now and wish you could change things?
It's so easy to think but hard to come up with a plan to change your life. Why?
Nowadays, being happy has become difficult due to the busy life and expectations we set for ourselves.
We think that to be happy we must own a villa or a Lamborghini.
Or that we have to travel the world and sleep in renowned hotels, not to mention being beautiful so everyone will love us.
Or maybe we don't have enough time for everything, which leads us to neglect ourselves and carry on with bad habits.
Has it ever happened to you?
Then how can some people be happy even with little? How do they manage to live a happy life with all the problems they have and the difficulties they face?
The secret to being happy in life is to feel good about yourself and to show more love toward yourself.
So start thinking about how much you care to be happy and how much attention you give yourself and your needs, and moreover what makes you feel good.
Because your happiness has nothing to do with the world, it depends on you.
Today I'm going to list 15 healthy habits that happy people adopt to lead a joyful life and that you can start implementing today for a happier life.
Pin it for later!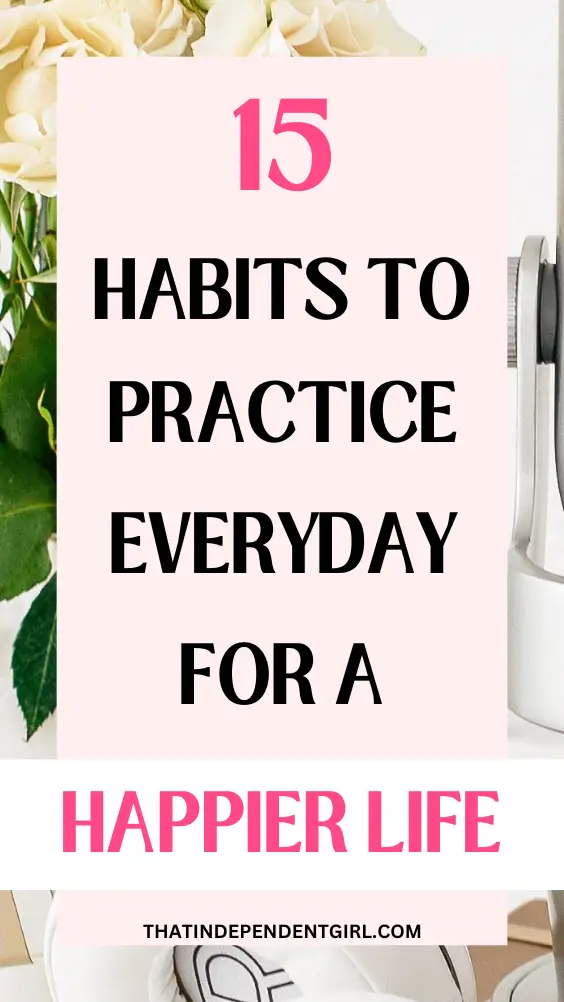 15 healthy habits to live a happier life
If you want to be truly happy, you should learn to give more importance to those little things that, if practiced consistently, have the power to transform your life.
You should start taking time for yourself and taking care of both your mind and your body. Only then you can pursue a happier life.
1) Eat healthy food
We are given only one body in life. So it is important that we respect it and treat it in the right way.
Healthy eating works wonders for the mind and body and provides the energy you need to be active and fit.
You may begin to pay more attention to your diet and introduce more fruits and vegetables if you are not already doing it.
Another help could be to start planning your food too, so that you have time to cook something healthy, instead of arriving late for dinner and opting for packaged foods.
Of course, you shouldn't deprive yourself of anything, but nutritious food doesn't have to be an option if you want to live a healthy life.
2) Start journaling
Journaling is a good habit to understand your thoughts and what is happening to you.
Are you happy today? Write the reason.
Didn't your day go as you expected?
Write what you wanted to do, and put your thoughts down.
Write down all the things you are grateful for, and write down the goals you would like to achieve and the decisions you would like to make.
Keeping a diary can help you to know yourself, it makes you reflect on the ideas, events, and emotions of your day.
If you are just starting, begin journaling five minutes a day.
Over time it will come naturally to you and you will improve your writing as well.
3) Set solid boundaries
In order to live happily with yourself, you must learn to say no to things, situations, or people that do not make you feel good.
Why? Your peace of mind is much more important than one might think, and you also start prioritizing yourself.
Saying no may seem rude, and arrogant, yet it isn't.
If you say no, you can clearly communicate your needs and enforce them, increase self-esteem, make relationships healthier, and free up time and energy for things you care about.
Moreover being always available to others without taking into account the things you want, will lead you to feel bad about yourself.
So from now on, start saying no to things you don't like, but always be nice to others.
4) Spend time with loved ones
What's better than spending time with your loved ones?
Whether they are friends, family, or neighbors, spending time with people we love and who make you feel good increases productivity and happiness and reduces stress and anxiety.
With them you can be yourself, you surround yourself with positive energy and consequently, your life takes a positive turn.
If by any chance you have people who put your mood down or don't respect you, then it would be a good choice to try to distance yourself from them.
Choose well the people you surround yourself with, who align with your goals, because they are the ones who exert the most influence on you.
5) Eliminate toxicity and negativity
In life, we ​​continually meet people and situations that bring negativity.
If you intend to be happy, it is important that you eliminate the negativity and toxicity around you, be it people or your own thoughts.
If it's about people who don't respect you, you need to start limiting your contact with them and stop allowing them to be part of your life.
You don't have to worry if they get angry.
The mere fact that they make you feel bad is a good reason to cut them out of your life.
Regarding negative thoughts, you should not repress them, but try to turn them into positive thoughts.

You could try meditation, start journaling, have positive self-talk, and try to see everything in a different light.
I have personally tried it, especially self-talk. It works wonders!
6) Exercise regularly
Exercising brings many benefits with it.
It helps prevent many diseases, keeps you fit, increases your self-esteem, and improves your mood.
If you do not exercise, your body will suffer in the long run.
It is not essential that you practice something at a competitive level or become an expert.
The important thing is to find an activity that makes you have fun and feel good.
This can be a walk in the open air, jogging with relaxing music, pilates, or yoga. But it can also be basketball, football, and more.
Choose according to your preferences.
For example, I choose to dance, because I enjoy it and it relaxes me in bad moments.
7) Spend time in nature
One of the things I love to do the most and that helps me clear my mind is to be in contact with nature.
I noticed that being in the city you can't get that feeling.
If you are like me and would like to improve your energy and free your mind from everyday life, there is nothing better than spending time in nature.
Being in contact with nature is good, both physically and mentally.
It makes you happy, strengthens your body and immune system, increases your level of concentration, and also increases creativity and the possibility of producing new ideas.
And you can also see how wonderful the world is.
Just thinking about this you can feel that peace in you.
8) Express gratitude
Have you ever tried to express gratitude?
Positive thoughts and feelings have the power to turn your life into a positive one as well.
Practicing gratitude turns you into a better person and you see life from a different point.
Everything becomes a gift, every experience not taken for granted, every moment spent in life as precious as if it were the last.
That is why even people with little can be happier than rich ones.
They don't dwell on materialistic things but are grateful for what they have.
If you want to improve your situation, you can always do it!
But you must always be thankful for what you already have.
Start practicing gratitude, you will see that your life is not as bad as it seems.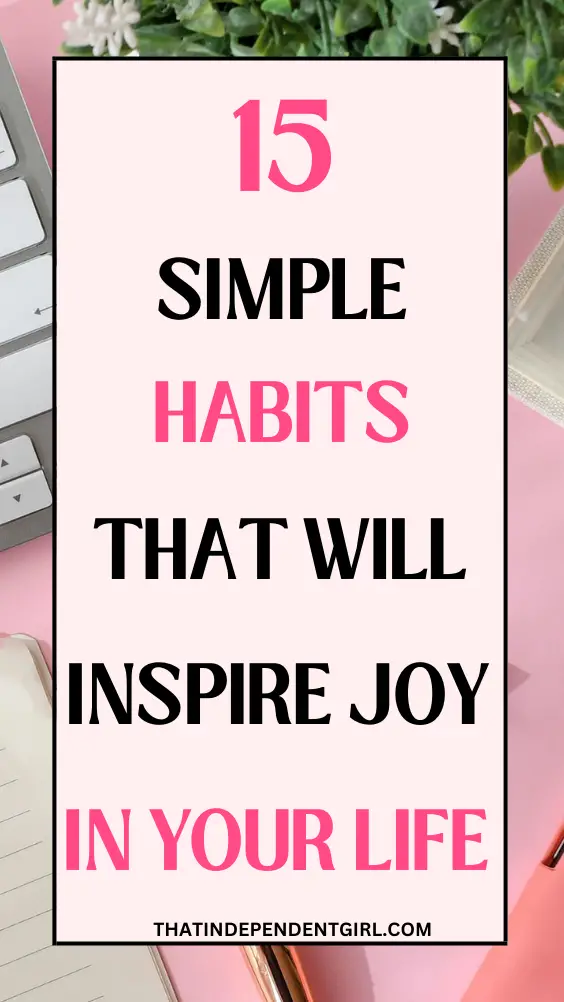 9) Have a good night routine
Has it ever happened to you to sleep bad and get up the next day stressed and with the mood under your feet?
Having a good sleep routine can help you stay happy. Why?
Sleeping properly allows you to start a new day with more energy, motivation, and productivity, therefore, making you happy during the day.
It is important to sleep well and in the right way. This avoids drowsiness and fatigue.
Do activities that help promote sleep and if you want to prepare yourself for a successful morning, you can start developing a night time routine that help you being productive in the morning.
10) Do things you love
Don't forget to dedicate time to things you love.
Passions are sources of motivation and energy.

Cultivating them is important, because it pushes us to be creative, helps us to know ourselves, and drives away loneliness.
It is totally impossible to lead a happy life if you don't plan time to do things you love.
Do you like playing the piano? Take lessons with a teacher.
Do you love to cook?
Take the time to cook a delicious meal.
Would you like to learn a language? Take courses.
If you really want to be happy, take some time for yourself and discover new things!
11) Practice daily self-care
This shouldn't be missing. Practicing self-care daily is a must if you want to have a happy and good life.
Self-care is not a selfish act as many tend to think, but it is very important both for yourself and for the people around you.
And above all, to practice self-care, you don't need a lot of time.
While it's true that you have to dedicate at least one day completely to yourself, it's also true that when you're busy, you can take advantage of a few minutes a day to practice self-care.
Here you can read about 29 self-care Sunday ideas for the perfect recharge and 100+ 5-minute self-care activities for mind, body, and soul.
12) Develop a morning routine
It goes without saying that a good awakening in the morning is one of the main keys to facing a happy day.
If you want to be happy, then you need to make sure your mornings are happy and relaxing too.
For this, it's important that you develop a morning routine that fits your lifestyle, and that allows you to have time for yourself.
By creating your own morning routine, you can manage your morning at will, such as taking a shower, reading a few pages of a book, stretching, or preparing a hearty breakfast.
If you're just starting out, you can read these 16 morning habits that will change your life and avoid some morning habits that can ruin your day instead.
13) Make your social media more positive
Who among us does not use social media?
Instagram, Facebook, and other social apps have allowed us to get in touch with people on the other side of the world, create new bonds, stay close to those who are far away, and have many other benefits.
Unfortunately, social media can also be a source of anxiety, addiction, moodiness, and unhappiness.
If you want to live a happy life, I'm not telling you to eliminate social media, but to make them positive.
This means unfollowing people who are toxic or who don't share your ideals, using social media to learn something new, or simply having fun, without comparing yourself to others.
14) Cultivate healthy relationships
Relationships are as important today as they were in the past.
Choosing who to stay with or who to share your time with is crucial to guaranteeing happiness.
Surrounding yourself with people who are toxic, or who brag, or who don't support you, is absolutely not okay.
Spend time with family and friends who respect you, who encourage you, who believe in you, and who make you laugh.
Spending time with them makes you forget about life's commitments, and you just enjoy the moment with them.
So, be careful about who you share your time with and set boundaries for whoever isn't good for you.
15) Be kind to yourself no matter what
I think this is the most important of all the others because it is about the relationship you have with yourself.
Sometimes we blame ourselves for making mistakes or failing at something, or even for not doing things differently.
Don't do or think about any of this.
Be kind to yourself and love yourself as you are.
This is the first step to being happy in life.
Did you make a mistake? forgive yourself.
Do you ruminate on the past and regret what happened?
Make peace with yourself. The past cannot be changed, but you can improve the future.
Are you angry with yourself for not succeeding in your attempt?
Give yourself another chance and always be kind to yourself.
Conclusion
These are the 15 healthy habits to start now to live a happier life and that happy people practice everyday.
Living a happy life is possible if we develop habits that benefit ourselves and it also involves putting yourself first.
It is absolutely nothing selfish, quite the opposite! You are the person you need most, and it is right that you think of yourself.
With much love,