Do you know what the common problem is when you wake up late?

You never have enough time for yourself and for the things you would like to do but you can't. Your day can feel unhinged, as can your mental health, and you don't have enough motivation to do things that you should do.
Sleeping late is nice and comfortable and I can understand it because I'm just one of the people who does it and loves it.
Getting up late sometimes is okay, but there are so many benefits when you start getting up early, it can truly change your life!
If you still don't believe me, then you've come to the right place.
Today I would like to share with you 10 hidden benefits of waking up early in the morning that can change your opinion and that you can try, so you can enjoy all the benefits of becoming a morning person.
Pin it for later!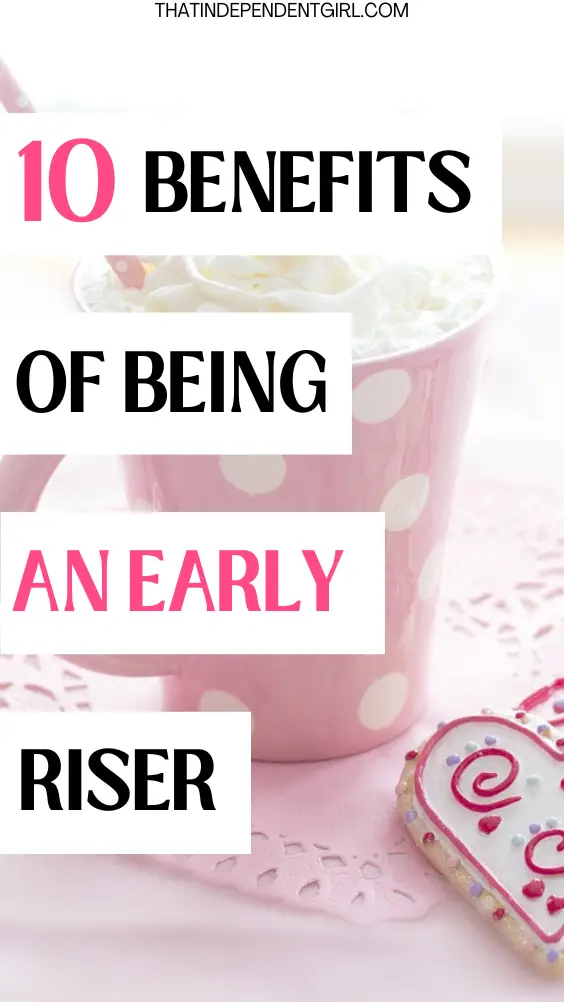 Reasons why you should wake up early in the morning
Getting up early brings a lot of benefits with it, which can really change your day and make you a positive person all day long.
It's not easy at first, like with all other things, but if you want to benefit the benefits of waking up early in the morning, you have to get up early first.
You can find out how to become a morning person and love it with these simple tips.
But now, let's look at the reasons why you should wake up early in the morning and which benefits it brings to you.
1) More time for yourself
How many times have you woken up in the morning and thought you wanted to do something you like or just take some time for yourself, but had to jump out of bed and run to work?
Unfortunately, many of us do this and we underestimate the time we can spend between waking up and starting our activities.
One of the first benefits of waking up early is to have more time for yourself.
If you get up early, you might be doing something you enjoy, whether it's journaling, some stretching, or making your to-do list.
You will have more time to spend on yourself as you can see, and therefore your day will start on the right foot!
2) Is it good for your mental health
Waking up early has a ton of benefits for your mental health.
According to a scientific study, those who wake up early are much more inclined to be positive and lead a happier life. But how?
By waking up early, you have more time to do many things, including exercise, which improves your self-esteem, reduces stress and anxiety, and boosts your energy, but also to prepare a delicious breakfast, which is always good for your mood and provides you with of energy for the day.
Also, those who wake up early go to sleep early, which improves their quality of sleep, leading them to have a healthy lifestyle.
3) Better sleep quality
As already mentioned above, one of the benefits of waking up early in the morning is that your quality of sleep improves.
If you wake up early, you have to go to sleep early, which helps you rest well and prioritize your sleep.
Those who sleep well also wake up with more energy and positivity and face the day with more productivity, motivation, and happiness.
Conversely, those who go to sleep late, wake up late, and consequently don't have much time for themselves, tend to sleep badly at night, with sleep interruptions, and wake up with a bad mood on their feet.
If you want to see the benefit in the early morning, start going to bed at the right times and give your body the rest it needs to recharge.
4) More peace and quiet time
Getting up early means so much more than getting up to have more time.
One of the best benefits of waking up early in the morning is to enjoy the silence, the sunset, and the stillness that exists only at that moment of the day.
Imagine waking up to the noise of cars, children screaming in the street or the going and going of people going in and out of shops. It's not exactly what we want when we open our eyes, is it?
Sometimes, we need a quiet and pleasant environment,
with fewer distractions, so that we can concentrate, focus work on our goals better
5) More time to exercise
Who loves morning exercise? Getting up early also gives you this benefit.
If you're one of them too, then you can't find a better time to do some workout in the morning.
This boosts your energy, improves your mood and sleep habits, and gives you more confidence, as you improve your physical and mental well-being.
So once done in the morning, you have the whole day ahead of you and do things that matter to you.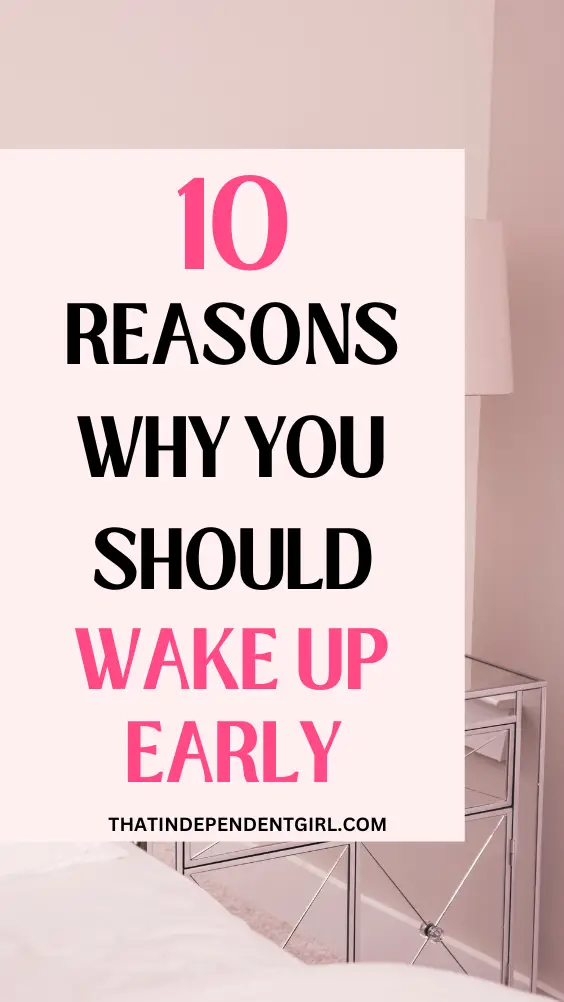 6) It maximizes your organization and productivity
Early risers are usually much more organized and productive than late risers.
One of the many benefits of waking up early in the morning is that you tend to have more organization and planning for your things and your goals.
I speak to you from experience. When I get up late, I notice that like this, my days seem short (and they really are), I don't feel like organizing and planning my day, my productivity is under my feet and I get to the end of the day without having done much.
Getting up early, I automatically get motivated to get down to work, it's more fun to organize my day and decide what to do, plan my to-do list to make the day productive.
7) More time to get things done
This point is inevitable, but it should be mentioned. It may seem obvious, but many do not realize that getting up even 1 hour earlier, they can do more things and complete tasks without pressure.
Imagine getting up any time, and having a full to-do list, but not having enough to complete them, so you have to move some things for the next day. Annoying, isn't it?
The morning is the time when you have more energy, more time to organize your day and decide what to focus on.
The benefit of getting up early in the morning and completing your tasks first thing in the morning is that you maximize your time for greater productivity and have more time to do other things later in the afternoon, and possibly leave the evening for relaxing activities.
It's something that is really practical and it will help you avoid the stress that comes with the urgency to get things done.
8) More time for a healthy breakfast
Say goodbye to waking up suddenly, washing your face, changing clothes, and rushing to school or work.
If you wake up early in the morning, you shouldn't be racing against the clock anymore.
In fact, you will have enough time to do everything calmly, even preparing yourself a nice, healthy, and satiating breakfast, which can give you the energy you need to face the day.
Eating a healthy breakfast in the morning is not only healthy, but it also helps you stay fit and make you a happier person during the day, which you wouldn't be on an empty stomach.
So take time for preparing something healthy and enjoy your breakfast before your work or school time.
9) You can reset your life
Do you know what you can do to improve your life?
You need to reset your life every time you feel the need to do it.
But do you know when is the best time to do it? The morning!
Waking up early in the morning will give you the best time to reflect on your progress and reset your life.
Mornings are calm and peaceful and you can reflect quietly on what's going on in your life, what you want to achieve, what you have to improve, and what habits you need to quit.
This means, creating an action plan, deciding your goals, and defining priorities, in order to be ever closer to your final goal.
10) More time for self-care
Self-care is really important for your physical and mental health.
Unfortunately, not everyone has the time to practice some self-care activities because either they are too busy or they don't know how to fit these simple activities into their routine.
If you want to know the ultimate benefit of waking up early in the morning, it is precisely to give yourself time to practice self-care.
You have plenty of time to take care of your skin, journal, read a chapter of your book, or simply practice some deep breathing before you start your day.
You can take a look at these 100+ quick and effective self-care activities.
Conclusion
These are the 10 benefits of waking up early in the morning.
Of course, there are other reasons why waking up early is worth it, but these alone should give you a push to try getting up early and becoming a morning person.
With love,