Being positive about life is something that must be cultivated over time.
No person can become positive after two days.
To become a positive person, we need to cultivate a mindset and some habits that can help us think more positively and be more optimistic in bad times.
But how can you be a positive person when life gets in the way?
In this post, you will discover 21 ways on how become a more positive person in your everyday life which can help you overcome bad times confidently and contribute to a positive you.
But first, let me explain to you the difference between toxic and healthy positivity.
Pin it for later!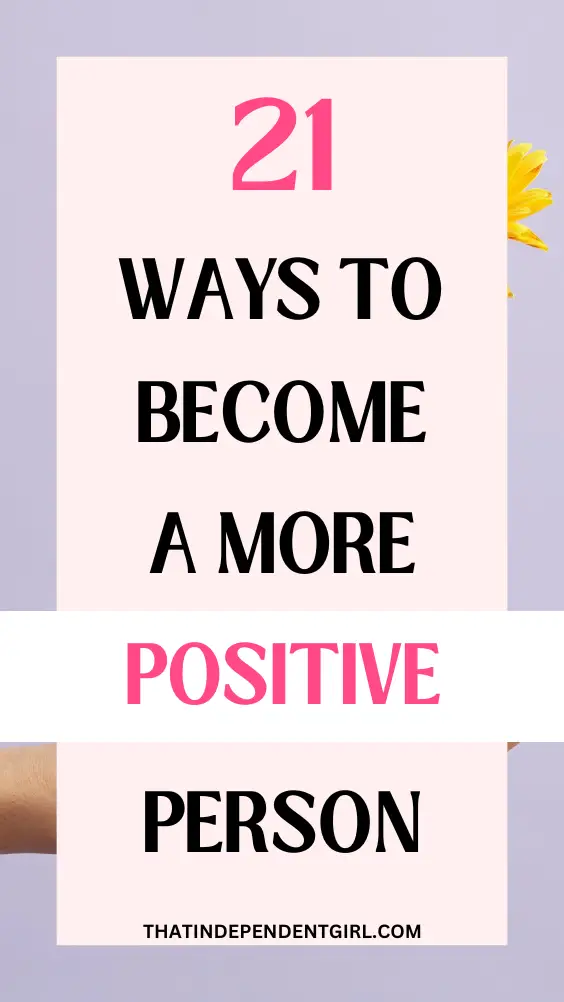 Healthy positivity vs toxic positivity
There's a big difference between trying to be a more positive person than you are today and always being positive about everything.
I absolutely do not promote toxic positivity.
Toxic positivity means you pay attention only to the good emotions and avoid the bad ones and you do not accept any negative thoughts.
People who are affected by toxic positivity always have an incredibly positive mindset and they reject all the negative emotions that come with the problem.
Keeping away every negative situation or negative view and always being optimistic is not healthy at all, as it leads to thinking that everything negative should be avoided or that negative emotions are bad and seem less important.
A healthy positive person focuses on the good things and is grateful for everything even though there are ups and downs in life.
If something goes wrong, they don't repress their emotions but accept them and overcome negative thoughts with more confidence.
This is the best way to become a more positive person because healthy positivity believes that even though there are difficult situations, you can still transform them for the better.
You should keep in mind that every problem and negative thing helps you to grow and therefore should not be avoided.
On the contrary, toxic positivity won't even let you see the difficult situation, but only the good part.
Now let's see 21 ways on how to become a more positive person in your everyday life that you can start practicing today!
1) Smile more
This is the first thing that comes to my mind. Smile more. Whether it's with a friend, a stranger, or yourself, smiling more makes you a more attractive and confident person.
Smiling releases endorphins which help reduce stress and have a good mood.
Not only that, if you smile, you can make someone else smile, and what's more beautiful than making another person happy?
2) Focus on personal growth
If you want to become a more positive person, you should start focusing on your personal growth.
Personal growth is very important because it starts all with it.
It includes everything that goes from loving yourself to finding your purpose on this earth as well as becoming the best version of yourself.
3) Keep a journal
Keeping a journal can be of great help when it comes to getting your thoughts out of your head.
Journaling allows you to be honest with yourself, and release stress, as well as negative and positive emotions in a journal.
To be a positive person, you also need to clear your mind, understand your feelings, strengthen your confidence and track your personal progress.
4) Avoid negative self-talk
To become a positive person, it is obviously necessary to be positive in relation to yourself.
This doesn't mean that you have to avoid the problem or difficulties, but it does mean always be loving with yourself, whatever the situation might be.
Avoid talking badly to yourself. Instead, encourage and love yourself as you are, and be always kind to yourself like you are kind to your loved ones.
5) Have a positive mantra
There will be days when not everything goes as it should, and that's okay.
The important thing is to have something that can put your spirits back up and not let you lose your confidence.
There are many things you can do, but one very simple one is to have a positive mantra.
It can be a quote you love, a quote from your favorite artist, or a bible verse.
Find your favorite phrase and repeat it in your difficult moments, and remember that these tough moments will pass soon.
6) Start your day on the right note
Have you ever heard that if you want a better and happier day, it all starts with your morning?
The morning is the starting point that decides how our day will go.
If you want it to go in a positive way, it is essential that you start the day in a positive way.
Start creating your morning routine, and select actions that make you feel good.
You can check out these 16 morning habits that will change your life and avoid these 14 morning habits that can ruin your day.
7) Be grateful
One of the most common habits of positive people is to be grateful for whatever they have.
If you think about it, not everyone has the same things or people that we do. People who love us, have a home, food, and clothes to cover us with.
These are all things we take for granted, but which are essential for a good and happy life.
Realizing what you have makes you a more understanding and positive person towards others.
8) Surround yourself with positive people
It is said that the circle of people you date or belong to says a lot about yourself too.
To stay positive or become positive, it is essential to surround yourself with people who have the same goal as you.
In fact, surrounding yourself with negative people only makes you a person like them, that is, a person who always complains and always sees the bad side of things.
Surround yourself with people who only want the best for you and who encourage you to see the positive in negative things as well.
9) Practice meditation / Pray
For a more positive mind, you need to be at peace with yourself, lower your stress level, connect better to yourself, and improve your focus.
You can do that through meditation. Meditation helps you reach all of these, but if you find talking to someone might be better, then you can pray and talk to God.
10) Promote kindness
The question I ask myself every day is, how to become a more positive person in a world full of hate, racism, and malice?
If the world itself is such an ugly place, how can we be positive people?
Well, the answer may seem trivial, but it's not.
If we want to be positive, we must also contribute to making the world a more positive place. And we can only do this when we spread kindness and positivity among the people.
Be kind to everyone and be respectful to everyone.
11) Aim for a stressfree life
A stressed life is nothing but a stone in the middle of the path to becoming a positive person.
Being stressed leads to burnout, mental and physical fatigue and does not contribute to your overall well-being, which does not help maintain a positive state of mind.
Aim for a stress-free life, include some self-care activities into your routine, practice healthy habits, and get rid of these 20 toxic habits for a blissful life.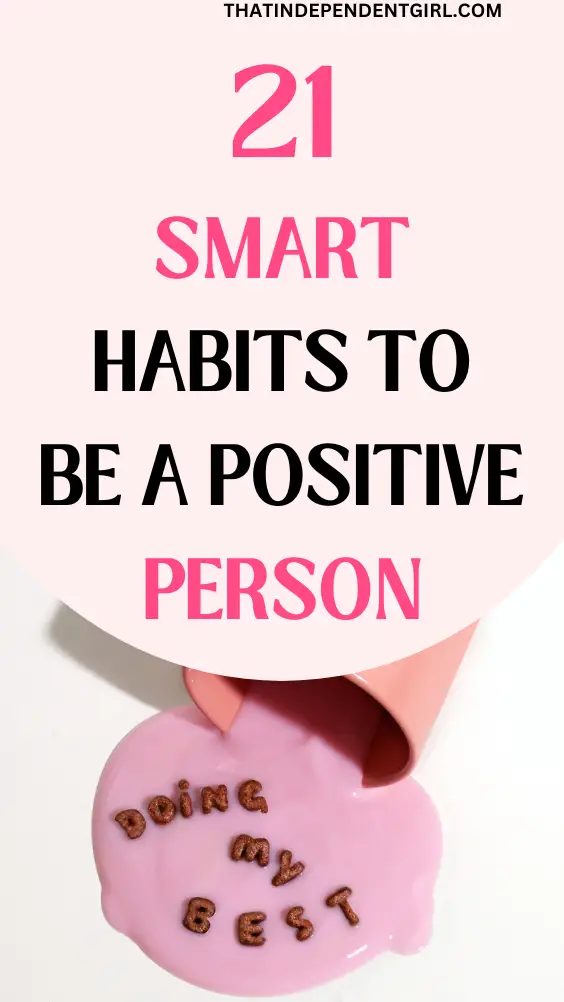 12) Take care of your emotions
To become a more positive person, it is very important that your emotions are healthy as well. This means, taking care of your emotions is fundamental for a positive mindset.
Replace negative thoughts with positive ones, but don't forget that negative emotions are also used to make you grow and that without them, there will never be positive changes in your life.
13) Exercise
By practicing the movement, the body produces hormones such as endorphins, dopamine, and adrenaline which are associated with happiness, and the feeling of confidence, and they lower stress and anxiety.
Just be sure to incorporate exercise into your routine. Even a 10 minute workout, yoga, or a walk outside with your paw friend is enough.
14) Get outside / Enjoy nature
Being in the middle of nature gives you a different feeling, a sense of freedom, peace, and harmony.
I love being in contact with nature, and after a walk, I can immediately notice the difference in my mood.
Breathe deeply, go for a walk, and stay away from home for some time.
This will leave you with a feeling of positivity and happiness.
15) Improve your self-esteem
A common trait of positive people is to have solid self-esteem.
They don't compare themselves to other people, because they know they are enough, they surround themselves with positive people, they give attention to self-care and they focus on their abilities.
You should do the same. Focus only on yourself, do things you enjoy, and don't give importance to the things that others say about you.
This is how you nurture your mindset with positivity because you know that you are the best for yourself.
16) Get enough sleep
One of the ways to become a more positive person is to have a good sleep routine.
Surely you are wondering what sleep has to do with becoming a positive person. Well, a lack of sleep reduces the capacity for remaining positive when some challenges get in the way and you are less able to enjoy positive experiences.
Build a solid night routine and sleep the right amount of hours that your body needs.
17) Find your favorite thing to do
Life seems to be more positive when you know that you are getting to do what you love, right?
Finding your happy pill can help you maintain your positivity and boost your mood.
It can be playing the piano, dancing some dance choreos with your friends, or simply reading your favorite book.
18) Focus on the good
As previously mentioned, focusing more on the positive and less on the negative is the basis for becoming a more positive person.
A positive person focuses on the positive things that a negative situation gives them or they see the negative side from another angle.
Look at the problems differently and as something that you can learn from.
This gives you the possibility to overcome difficult situations with fewer bad emotions.
19) Celebrate life
To become a more positive person you need to know that life has its ups and downs and that it's never rosy.
This is why it must be lived day by day in the best possible way.
Celebrate life for what it is.
20) Create a healthy lifestyle
For more positivity in your life, you need to cultivate a healthy lifestyle.
This means you need to eat healthy, exercise daily, take care of your mind with journaling and meditation, and practice self-care for your overall well-being.
Create a routine that fits your lifestyle and includes these healthy habits for a better life.
21) Practice mindfulness
If you want to become a more positive person, you must learn to focus on yourself, your surroundings, and your present moments.
If you think about the past or the future, you will never be able to savor the present and fully experience the moment.
Mindfulness helps you eliminate depression, anxiety, and stress and increases your mental clarity, happiness, better physical health, and helps you choose your thoughts and stop overthinking.
Conclusion
This is all about the 21 ways on how to become a more positive person.
I hope this post has given you some ideas and you can begin your journey to more positivity.
If you too have some advice or tips that helped you become one, I'd be happy to hear about it.
With love,