Can you believe this? There are only 3 months left until the beginning of 2024, and we are already starting to think about what the new year will be like and what we would like to achieve.
The start of a new year brings with it dreams, hopes, new resolutions, and a desire for a better change.
This is why every January 1st, we have the habit of taking a piece of paper and writing down all our goals and the habits we want to develop to make the year the best one.
Let me tell you something. Like on every January 1st, I gave myself goals and dreams to achieve. I had that wish to change and to start to be serious about my goals, but you know what?
I failed to achieve my purposes, not because they were impossible to reach, but because I tried to change so many things at once, that in the end, I lost sight of them.
If this has happened to you too, don't worry, because there is something you can do, so that you can achieve all your goals.
The secret is to start working on yourself before the New Year
begins so that you can have enough time to start building new habits that will lead you to success.
Today, I will talk about 15 powerful habits to start before New Year that can set you up for a successful and happy year.
Trust me, 2024 will be your yours! 😉
Pin it for later!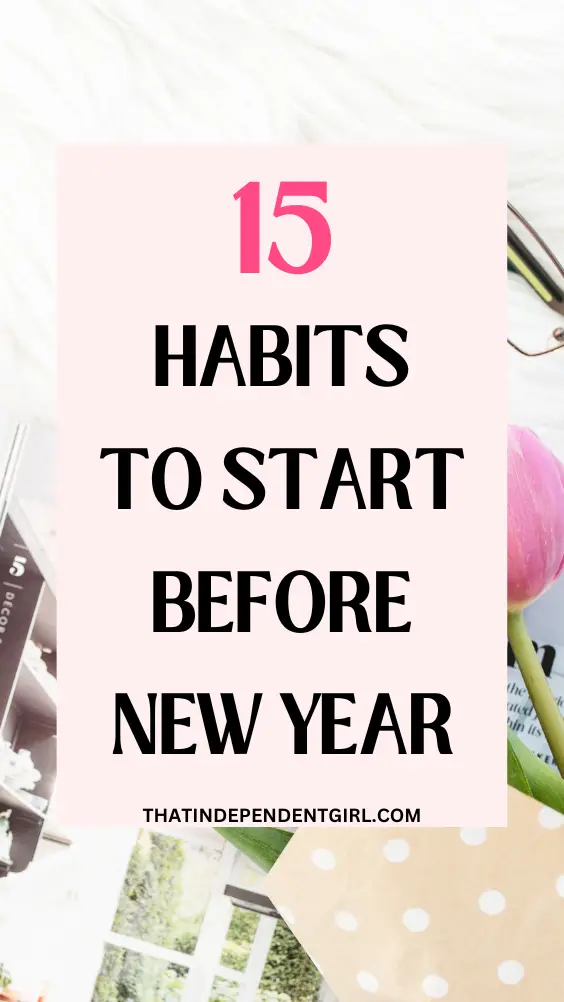 15 Habits to start before New Year
If you want to start the year with the right intentions and achieve your goals, then you need to know that there are some things you can do first, to make things easier.
Let's see which habits you need to start before New Year that can help you actually get closer to your goals.
1) Improve your food habits
At the beginning of the New Year, we give ourselves a good resolution to start eating healthier, introducing more fruit and vegetables and reducing sweets.
This is one of the goals that most people write on their list, but more than half of them abandon this habit a month after starting.
Making a drastic change in your diet makes you give up more quickly because you aren't used to it.
So why not take advantage of these months before the end of the year to make some changes in your diet and start slowly?
This way, you give your body and mind time to get used to the dietary change and start the new year with better eating habits.
2) Start drinking 8 glasses of water
To ensure a successful and happy new year, there is one super important thing you should start early. Drink enough water!
You should drink at least 1.5 liters of water a day, that is 8 glasses a day.
It seems like a simple thing, but in fact, over 80% of people don't drink enough water.
Even I forget to drink it, but this has become part of one of the habits to start before the New Year.
If you don't drink enough you could increase the number of glasses little by little until you reach a minimum of 8 glasses a day.
Water is essential for better health and beautiful skin and if you want to have a healthy year ahead of you, you should start with this healthy habit as soon as possible.
3) Practice meditation
Sometimes it is good to detach yourself from the world and everything around you and dedicate time to yourself, your mind, and your thoughts.
It's a habit that many of us should start since little importance is given to the mind.
Practicing meditation is a good way to reduce stress, and anxiety, connect with your inner self, understand your emotions, and heal from them, as well as let go of things that no longer serve you.
You can start carving out 10 minutes a day, find a quiet place to dedicate to your own thoughts, and release what was bothering you.
4) Start waking up 30 minutes earlier
I'm not a morning person, but I know how good getting up a little earlier in the morning can be.
The morning is the most important time and the one that will decide how you will face your day.
Furthermore, getting up early has many advantages, such as having more time to prepare, being more productive, and getting challenging tasks done so you have the rest of the day free.
Getting up early allows you to get organized and spend a calm and slow morning relaxing before going to work.
Start waking up early and become a morning person now, so that you are ready to go at the beginning of the New Year.
You could start by moving your alarm clock 30 minutes earlier.
5) Spend more time outside
We all know how important it is to spend time outdoors, yet many of us prefer to stay at home watching a movie or playing games.
Always being behind those four walls makes you sad and depressed.
Whether you want it or not, try to spend more time outside.
Fresh air and a walk never hurt.
Instead, they can raise your spirits, and eliminate stress!
Watching the leaves fall during autumn or walking in the snow during winter are things that can fill you with happiness and leave you in peace.
6) Start being consistent
Let me tell you this. A written goal and the desire to achieve that goal accomplish nothing without consistency.
This is precisely what allows you to achieve what you set out to do.
I'll give you an example. I have always wanted to improve my German and this was a goal of mine for the New Year.
Unfortunately, I wasn't able to achieve it, and this was because at the beginning I was so determined, but as time went by, as I was no longer consistent, my results were equal to zero.
Staying consistent takes time, self-discipline and focus on your priorities, which is why I highly recommend you start learning how to be consistent before the New Year.
In 3 months of time, you can start developing this powerful habit which is the foundation of achieving something in your life.
I'm sure you will make giant strides and no one will be able to separate you from achieving your dreams.
7) Start creating to-do lists to be more productive
Having a daily to-do list is an excellent way to get the most important things done and above all for personal satisfaction in having completed everything.
To-do lists are important for prioritizing each task and for having an overview of the things you need to do.
It's a habit that I wish I had developed earlier because having a to-do list saves you time, allows you to focus on the important things, and gives you that extra push to be more productive during the day.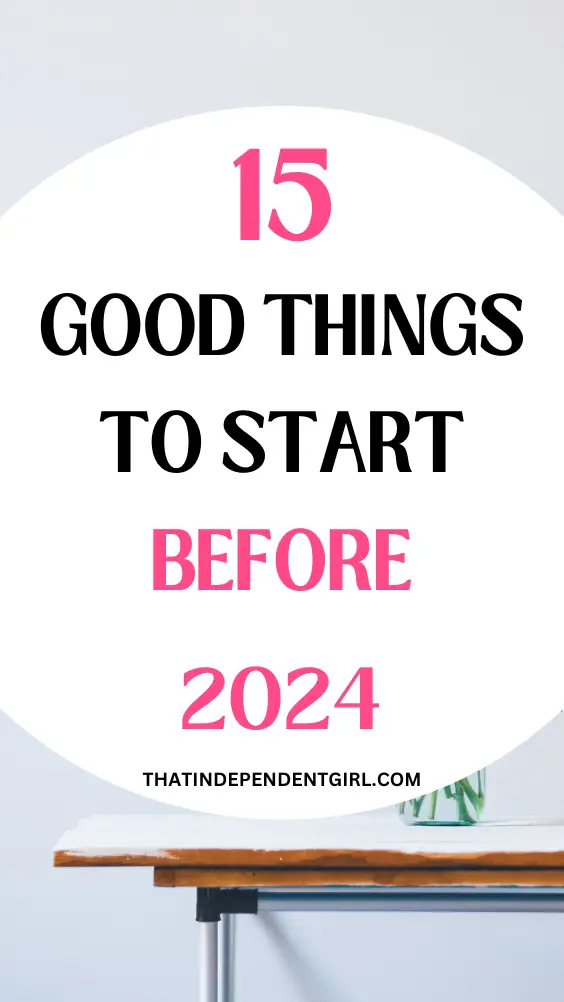 8) Start a self-care routine
If you asked me how important self-care is in our lives, well, the answer is simple.
Without self-care, you cannot live well.
Unfortunately, when we talk about self-care, we immediately think of having to be rich, or of the image of a bathtub full of bubbles and scented.
Or that one is selfish to practice something like this.
Nothing could be more wrong!
Self-care is important for your mental and physical well-being and is an act of self-love.
So start practicing it now! There are many things you could do, some ideas could be:
read a book you like
listen to your favorite music
take a walk outdoors
prepare yourself a delicious dessert
stay in you pajamas all day
These are some of my posts on self-care that you can get ideas from.
9) Start reading 10 minutes a day
This is, to say the least, one of the things I love doing most.
Reading is one of the most relaxing activities, a healthy way to pass the time, but also a way to immerse yourself in another world and leave everyday commitments out.
Reading informative texts gives you knowledge, reading texts on personal growth helps you understand and improve yourself while reading fantasy books lets you enter a completely different world.
Make it a habit to start reading at least 10 minutes a day. It's not that hard and who knows, maybe you will fall in love with this activity 😉
10) Start saving money
I know, you wanted to save more but somehow, it wasn't possible.
This is by far one of the most difficult habits to build because we are living in a time of consumerism, where we need everything but we don't need it.
Start saving money for your future.
You don't necessarily have to start on January 1st, on the contrary, to make things easier, you could start building this powerful habit before New Year so that you can start your new year with the right foot and mentality.
Your bank account will be very happy about it.
Make the new year a better financial year too!
11) Do a digital detox for 1 hour a day
In today's times, being without social media would also mean being excluded from the world.
You don't know what's happening to your friends, how your favorite influencer is having fun, or what your crush is eating.
But social media isn't everything.
While it has its good parts, it also has bad parts.
Social media can even ruin your real life or make your life depressed.
I'm sure you've wanted to be in that influencer's place or that you've thought at least once that that unknown person's life is better than yours.
When you start having a hard time switching away from these apps, it's a good idea to take a break.
There are better and more productive things you can do instead of being glued to Instagram.
I'm not asking you to eliminate them but to use them in moderation and focus on things that can improve your life and do things that you enjoy.
In the new year, try to moderate your use of social media, and start building this habit now by doing a digital detox for 1 hour a day!
12) Start sleeping on time
Creating a bedtime routine helps you relax and unwind before bed.
If you have a habit of sleeping late, try to change and set a time for going to sleep.
Going to sleep early helps you face an energizing, productive day and it will be easier for you to wake up early.
Sleep is important for your health, and sleeping at least 6-7 hours is essential to guarantee your body complete rest.
Avoid using your cell phone at least 1 hour before going to sleep, so you can fall asleep more easily.
13) Start keeping your things organized
One of the habits to start before New Year is to start taking care of your things and organize yourself.
Having a thousand things scattered around the house, or a messy desk, doesn't help make your life easier at all.
Instead, try to give a place to every object, and keep your desk tidy, perhaps by buying organizers and keeping your items in there.
It's definitely one of the habits that take time to be part of your routine, but if you want to start the New Year off on the right foot, then start keeping your things organized now.
14) Create an exercise routine
A moving body is a healthy body, right?
Your New Year must be not only successful but also a year of health and happiness.
This is the most important thing you could ask for yourself.
And how can you stay healthy if you don't move yourself?
Don't get caught up in laziness, move your body by doing the activity you like most.
This can be a simple walk every day, a light 30-minute workout, HIIT if you love moving and sweating, or even some relaxing stretching.
Find the one you feel comfortable with and start your fitness journey today.
15) Start journaling
Thoughts and the mind play a very important role when we talk about mental well-being, happiness, and feeling good about yourself.
Journaling is a great way to understand your thoughts, gain self-confidence, and reduce stress and anxiety, but it is also a way to express yourself and be creative.
Definitely a habit to start before the new year and carry forward.
Conclusion
These are the 15 powerful habits to start before New Year that will definitely set you up for a happy, healthy, and successful year ahead.
I hope these tips have been helpful to you and that you can slowly start incorporating these habits into your routine.
With love,